enter the presstitutes, and alas, it's not some new-fangled term, cuz yellow journalism is a very very old game
Oh, yes, what to believe, whose history to take in whole cloth, how skeptical can we be in Chlamydia Capitalism?
No one believes almost anything these day, that seems to be the highlight of this blog today, a short one, albeit. Or, why would "they" be putting their own children and children's children at risk by creating damaging, deadly things. They, the big wigs, are good guys, our neighbors, our friends.
"They" being "them," the billionaires and techno-aires, the millionaires and those inventing each nanosecond something "new under the sun" for which to make a profit . . . find validity . . . for which to use their brain power . . . in order to do their genius things unfettered (but well funded). They are just vaunted, special star chamber people.
They are built "to do/make/produce/cook/launch/cook up/tear down/construct/splice/improve/scale up — "What can we do to 'improve' or develop or produce or maufacture or invent anything? And how can we mash more organic compouds togehter for more organic chemicals, more compounds to make the plastics lighter, smoother, less breakable, more tough, and more easily replaceable by more plastic?"
Lot's of what's and how's in science (sic) but never ever WHY? Never ever WHO gets the benefit and who gets the downside of stated scientific, technocratic, managerial, bureaucratic, massive scaling up of it all?
When they, the billionaires and marketers and lobbyists and lawyers and CPAs and economists and math whizzes cover for the What and How folk, we end up with a continuing criminal enterprise. And scientists and mechanics and engineers and technologists always think they are doing the better good for the betterment of us all.
So we are here, with no overarching and overriding WHY's. Why the hell do we need, want, should want, should need, ever need item or service x, y, z, infinity? But you can's even go against these monsters.
Short for strategic lawsuits against public participation, SLAPPs have become an all-too-common tool for intimidating and silencing criticism through expensive, baseless legal proceedings.

Anti-SLAPP laws are meant to provide a remedy to SLAPP suits. Anti-SLAPP laws are intended to prevent people from using courts, and potential threats of a lawsuit, to intimidate people who are exercising their First Amendment rights. In terms of reporting, news organizations and individual journalists can use anti-SLAPP statutes to protect themselves from the financial threat of a groundless defamation case brought by a subject of an enterprise or investigative story. (source)
Those SLAPP laws are for by and large reporting, investigative reporters. In a world where the Presstitutes are self-censoring, self-killing story after story, and when they, journalists, fight for the man, the corporation, the military, the lesser (sic) of two evils POTUS, hell, why have enemies?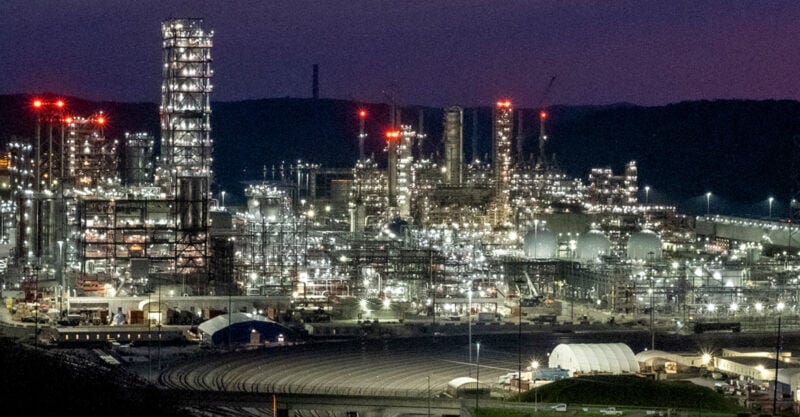 You want to question cracker plants, question HFCS (cooked high fructose corn syrup) plants, large animal production plants, or where oil spills take place, question those outfits, expect the long and short arm of the law and the lawyers to come and get you:
Helen Yost, a 62-year-old environmental educator, has been a committed activist for nearly a decade. She says she spends 60 to 80 hours a week as a community organizer for Wild Idaho Rising Tide. She's been arrested twice for engaging in non-violent civil disobedience.

Yost may not fit the profile of a domestic terrorist, but in 2014 the FBI classified her as a potential threat to national security. According to hundreds of pages of FBI files obtained by the Guardian through a Freedom of Information Act (Foia) lawsuit, and interviews with activists, Yost and more than a dozen other people campaigning against fossil fuel extraction in North America have been identified in domestic terrorism-related investigations. (source)
Try photographing a dairy in Wisconsin. Try being on that public road and photography a military installation.
The pigs of capitalism (and other pigs) go after us with ZEALOTRY: Blood ponds!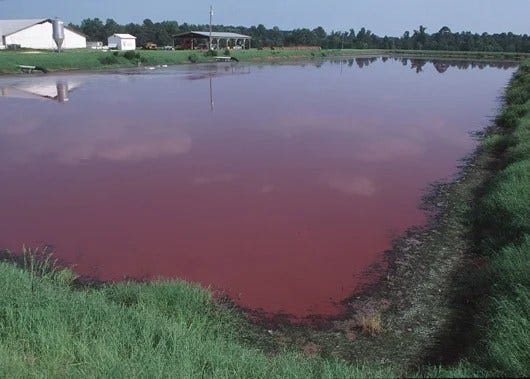 Some say that words have no meaning, only uses. What France's Interior Minister Gérald Darmanin said about those who oppose giant water reserves for agricultural irrigation borders on political obscenity and comes across as a clear declaration of war against environmentalists.

History shows that the first shots of a war or a revolution are always semantic. According to Mr. Darmanin, France will be threatened by armies of eco-terrorists ready to set the country on fire in the name of their dangerous ideology and their sectarianism. Nothing less.

This slanderous accusation against activists who, in their immense majority, do nothing else than follow a long tradition of disobedience against big corporations, was carefully considered by the government. With a double purpose: dictating its values by forcing its vocabulary on us, as it was then shared by media and social media; and pushing us to use the word rather than to debate the limits of our agricultural model. We know that speaking and thinking using the words of the adversary is already surrendering. We must therefore restore their true meaning in order to give our political action meaning. (source)
Oh, they will come after you FBI-CIA-SWAT-NSA hit man style:
[Photo: Paris' covert action, code-named Opération Satanique (Operation Satanic), sank the 131-foot ship in Auckland Harbor, killing 35-year-old Portuguese photographer Fernando Pereira and leaving his eight-year-old daughter Marelle fatherless. The goal of the July 10, 1985 attack was to stop Greenpeace's flagship vessel from sailing to Moruroa atoll and joining a peace flotilla of New Zealanders and Tahitians to protest at France's South Pacific nuclear test site.]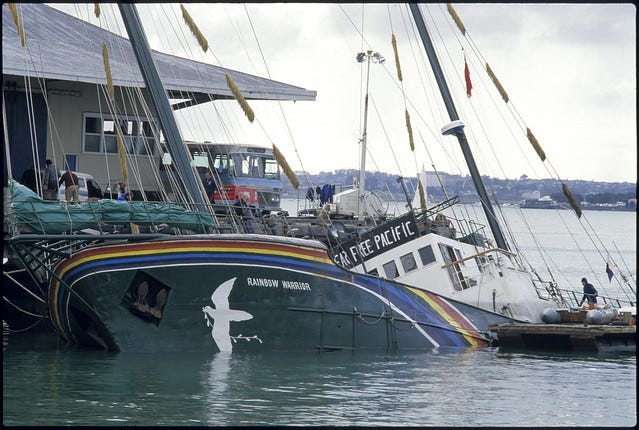 To commemorate the 30th anniversary of the Rainbow Warrior's demise, Auckland-based Little Island Press has published the fifth edition of Robie's 1986 classic Eyes of Fire: The Last Voyage of the Rainbow Warrior. A book launching is scheduled for today, not far from where the Rainbow Warrior was bombed by state terrorists. The event will include Greenpeace's "Courage Works," a special Rainbow Warrior anniversary photography exhibition.

Robie was aboard the Rainbow Warrior during its fateful final mission, evacuating islanders from Rongelap atoll in the Marshall Islands, which had been irradiated on March 1, 1954 "when the Americans exploded the H-bomb Bravo on Bikini atoll," as Robie wrote in Eyes of Fire. "The bomb was a 15-megaton giant, more than 1,000 times as powerful as the bomb which devastated Hiroshima." Robie covered "Operation Exodus," as the Greenpeace ship transported roughly 350 Marshallese atomic exiles from contaminated Rongelap to Mejato and Ebeye at Kwajalein atoll in May 1985.

Because Robie had spent two-and-a-half months aboard the Rainbow Warrior reporting for top regional outlets — including Radio Australia, Radio New Zealand, New Zealand Herald, New Zealand Times, The Australian and Fiji-based Islands Business — he had the scoop. Robie won New Zealand's Media Peace Prize in 1985 and published the original Eyes of Fire the following year.

Recounting the 1985 attack, Robie told Earth Island Journal: "The first limpet mine blew a hole in the engine room on the starboard side of the Rainbow Warrior big enough for a bus to drive through. The second bomb crippled the aft propeller and shaft. My cabin was almost adjacent to that of Fernando Pereira, the Portuguese-born Dutch photographer who lost his life."

"I managed to go on board some time later after the [Rainbow Warrior] had been refloated and towed across to Devonport Naval Base dry dock on the other side of Auckland's Waitemata Harbour," he continued. "I inspected my old cabin and the second bomb had lifted the whole of the floor into a giant egg-shaped hump and the bunks were a wreck. I wouldn't have stood a chance if I had been asleep in the cabin."
We in any revolutionary movement, in the West, cannot depend on fair and honest reporting. It has gone way past Yellow Journalism. Journalism today is steeped in PSYOPS, in what American Exceptionalism is all about: unfair labor practices, cover-ups, proxy wars, internal wars, witch hunts, book banning and burning, our way, or the highway.
Yep, mocking us all, with Operation Mocking Bird.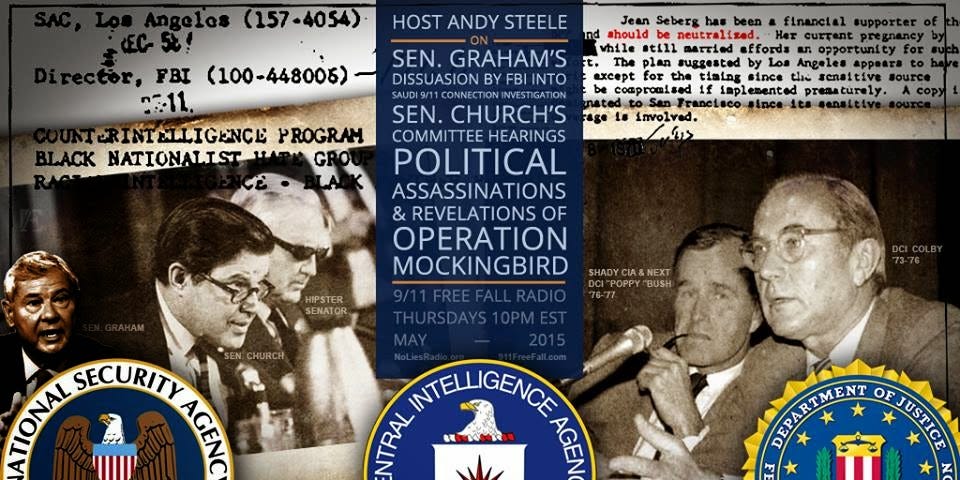 And, remember how the mainstream media raked Gary Webb over the coals?
After Gary Webb spent more than a year of intense investigative reporting and weeks of drafting, his editors at the San Jose Mercury News decided to run his three-part series late last August, when the nation's focus was divided between politics and vacation. The series, DARK ALLIANCE: THE STORY BEHIND THE CRACK EXPLOSION, initially "sank between the Republican and Democratic Conventions," Webb recalls. "I was very surprised at how little attention it generated."

Webb needn't have worried. His story subsequently became the most talked-about piece of journalism in 1996 and arguably the most famous–some would say infamous–set of articles of the decade. Indeed, in the five months since its publication, "Dark Alliance" has been transformed into what New York Times reporter Tim Weiner calls a "metastory"–a phenomenon of public outcry, conspiracy theory, and media reaction that has transcended the original series itself.

The series, and the response to it, have raised a number of fundamental journalistic questions. The original reporting–on the links between a gang of Nicaraguan drug dealers, CIA-backed counterrevolutionaries, and the spread of crack in California–has drawn unparalleled criticism from the Washington Post, the New York Times, and the Los Angeles Times. Their editorial decision to assault, rather than advance, the Mercury News story has, in turn, sparked critical commentary on the priorities of those pillars of the mainstream press.

Yet in spite of the mainstream media, the allegations generated by the Mercury News continue to swirl, particularly through communities of color. Citizens and journalists alike are left to weigh the significant flaws of the piece against the value of putting a serious matter, one the press has failed to fully explore, back on the national agenda.

DRUGS AND CONTRAS REDUX

Although many readers of theMercury Newsarticles may not have known it, "Dark Alliance" is not the first reported link between the contra war and drug smuggling. More than a decade ago, allegations surfaced that contra forces, organized by the CIA to overthrow the Sandinista government in Nicaragua, were consorting with drug smugglers with the knowledge of U.S. officials. The Associated Press broke the first such story on December 20, 1985. The AP's Robert Parry and Brian Barger reported that three contra groups "have engaged in cocaine trafficking, in part to help finance their war against Nicaragua." Dramatic as it was, that story almost didn't run, because of pressure by Reagan administration officials (see "Narco-Terrorism: A Tale of Two Stories"CJR, September/October, 1986). Indeed, the White House waged a concerted behind-the-scenes campaign to besmirch the professionalism of Parry and Barger and to discredit all reporting on the contras and drugs. (source)
All of this rant was precipitated by reading a fellow Substacker:
This article linked from Newsweek claims, based on a fake report from Kiev, that the Patriot can shoot down the hypersonic Kinzhal.
This if from Don Hank's Substack, quoting him:
One of the many problems with this report is that, while Ukraine claims to have shot down 6 Kinzhals on May 16, Russia did not fire that many. Russia rarely fires more than one of these expensive missiles at a time.

Further, the unpredictable meandering trajectory and enormous hypersonic speed of this missile makes it impossible to shoot down. So far, none have ever really been intercepted — Ukrainian lies to the contrary.

It is to Newsweek's shame and disgrace that none of its journalists even tried to do a skeptical sci-tech-based investigation of this obviously fake news from Ukraine. The report of the shoot-down is tantamount to a travel reporter claiming Eskimos are hunting rhinos at the North Pole using pea shooters.

Other mainstream outlets are no better. The recent Pentagon leaks show that the US has been vastly under-reporting Ukrainian war casualties while vastly over-reporting Russian casualties for several months now.

Here again, there is no excuse for this shoddy reporting of war casualties, because it has been known for some time, even to Western military experts, that the Ukrainian forces are firing one artillery shell to every 10 shells fired by the Russians, and that the Russians have overwhelming air superiority – in fact, Ukraine has actually had no air force to speak of since Feb 24. Russia destroyed all major Ukrainian air fields on the very first day of the special military operation and knocked out all but a handful of Ukrainian military aircraft. Plus, Russia keeps destroying air defense systems, with the latest instance having been reported on May 16 with the destruction of a Patriot system in Kiev.

So, seriously, does it take a genius to figure out that Ukraine can't prevail over Russia? Conversely, doesn't it take an incompetent fool of a journo to keep repeating the Ukraine lie that Russia is losing?

I mean, sure, US news media can always blame Ukrainian fakes for contaminating Western news reports, but there is no law written requiring all US intel agents and news sources to regurgitate every report that comes out of Ukraine while dismissing as fake every report from Russia!

If the grassroots ever grows a brain, US msm will all lose most of their readership and subscribers.

The Ukrainians denied the Patriot system was destroyed, of course, but Western officials are admitting it happened and are assessing the extent of the damage.
Again, Deep Green Resistance or whomever, we shall be attacked, by the Media and the MSM Media, Legacy Media, all part of the DNA of Operation Mocking Bird:
The FBI also focused its attention on DGR organizing at Western Washington University, which hosted a lecture in 2011 by two of the group's members, Max Wilbert and Dillon Thomson. Information about the lecture, titled "Environmentalism for the New Century," and about the professor who hosted it was included in the FBI files. Wilbert, who attended WWU, is also a member of DGR's board of directors.

As part of the investigation, the FBI met with the university's police department to "discuss possible Deep Green Resistance presence on the WWU campus". The FBI also said it would attempt to determine whether any of the professors in the environmental sciences department were involved in the "DGR movement". (source)
Among the executives who lent their cooperation to the Agency were Williarn Paley of the Columbia Broadcasting System, Henry Luce of Tirne Inc., Arthur Hays Sulzberger of the New York Times, Barry Bingham Sr. of the LouisviIle Courier‑ Journal, and James Copley of the Copley News Service. Other organizations which cooperated with the CIA include the American Broadcasting Company, the National Broadcasting Company, the Associated Press, United Press International, Reuters, Hearst Newspapers, Scripps‑Howard, Newsweek magazine, the Mutual Broadcasting System, the Miami Herald and the old Saturday Evening Post and New York Herald‑Tribune.
By far the most valuable of these associations, according to CIA officials, have been with the New York Times, CBS and Time Inc.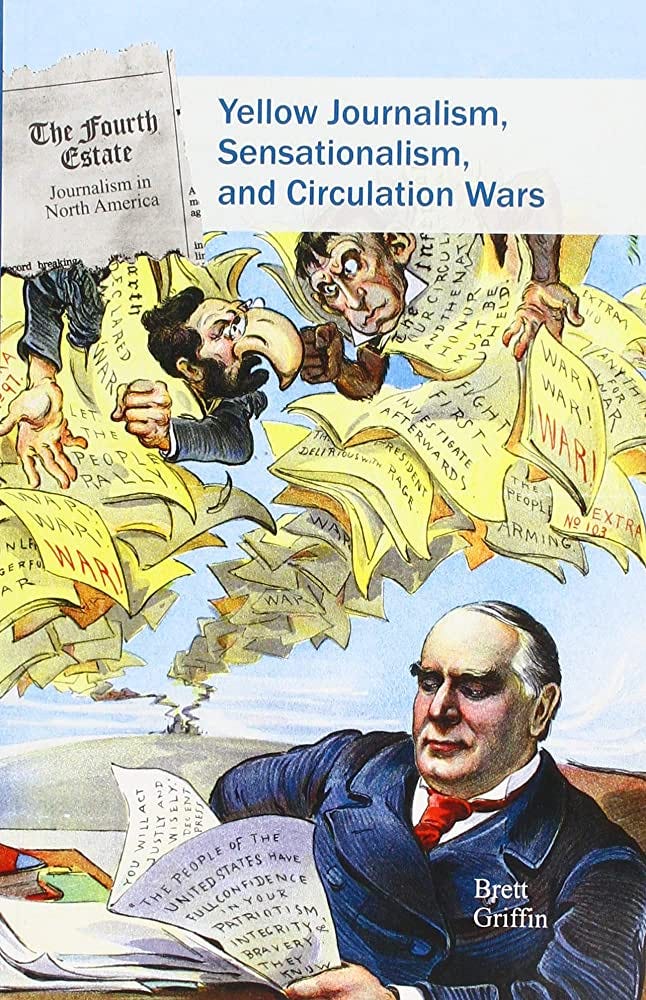 Oh, those old op-ed's: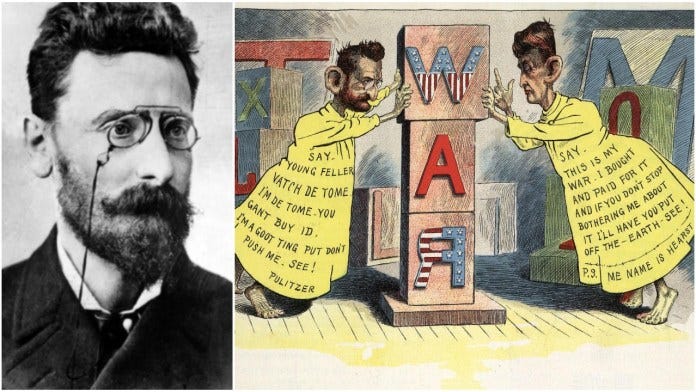 And, so, now, from the 1950s on, and especially now, how's that looking, those Mocking Birds?
The CIA even ran a formal training program in the 1950s to teach its agents to be journalists. Intelligence officers were "taught to make noises like reporters," explained a high CIA official, and were then placed in major news organizations with help from management. "These were the guys who went through the ranks and were told 'You're going to he a journalist,'" the CIA official said. Relatively few of the 400‑some relationships described in Agency files followed that pattern, however; most involved persons who were already bona fide journalists when they began undertaking tasks for the Agency.

The Agency's relationships with journalists, as described in CIA files, include the following general categories:

■ Legitimate, accredited staff members of news organizations—usually reporters. Some were paid; some worked for the Agency on a purely voluntary basis. This group includes many of the best‑known journalists who carried out tasks for the CIA. The files show that the salaries paid to reporters by newspaper and broadcast networks were sometimes supplemented by nominal payments from the CIA, either in the form of retainers, travel expenses or outlays for specific services performed. Almost all the payments were made in cash. The accredited category also includes photographers, administrative personnel of foreign news bureaus and members of broadcast technical crews.) [source]
Look at the CIA New York Times Language:
The deck is always stacked against anyone threatening the status quo.
Animal‐​welfare activists have scored much publicity success by releasing hidden‐​camera videos that they say document the mistreatment of animals at farms and slaughterhouses. Now, at the behest of farm interests, lawmakers in Iowa, Florida, and Minnesota are proposing laws seeking to criminalize the making and even possession of such videos. According to the New York Times, the Iowa bill, which has passed the lower house of the legislature in Des Moines:
….would make it a crime to produce, distribute or possess photos and video taken without permission at an agricultural facility. It would also criminalize lying on an application to work at an agriculture facility "with an intent to commit an act not authorized by the owner."
Equating taking photos of farms or weedy land, to manslaughter, old Florida.
If you enjoy taking pictures of the Florida countryside, you should probably go get it out of your system before July 1. After that date, it may be a felony.

State Senator Jim Norman (R-Tampa) recently introduced S.B. 1246, which would make it illegal to create any image of a "farm or other property where legitimate agricultural operations are being conducted" without the written consent of the owner. (I assume the "illegitimate agricultural operations" he's thinking of are marijuana farms, but maybe he's got a neighbor with some really bad landscaping.) Also, "farm" is defined to include "any tract of land cultivated for the purpose of agricultural production, the raising and breeding of domestic animals, or the storage of a commodity," which appears to mean that ranches, warehouses, and lots of other places, would be off-limits whether or not they are connected with an actual "farm" in the common sense of the word.

You'll have to be pretty careful where you point your lens in Florida if this nonsense passes. Assuming you were still inclined to visit or live in Florida at all.

Remarkably, as written the bill declares this to be a first-degree felony, which under Florida law carries a penalty of up to 30 years in prison. Fla. Stat. § 775.082(3)(b). This would make taking a picture of a farm without permission a more serious offense in Florida than manslaughter. (source)
Ag Gag Laws, and you will not see the Manslaughtering Mainstream Media do deep stories defending our right to do any number of peaceful demonstrations against the Predatory=Penury=Polluting=Perverse Capitalism. The language, man, the language, as in "Green as the New Red."
Criminalizing Compassion: How Ag-Gag Legislation Lets Corporations Set the Laws of the Land
Here you go, and Will Potter is not in the news because of tons of threats.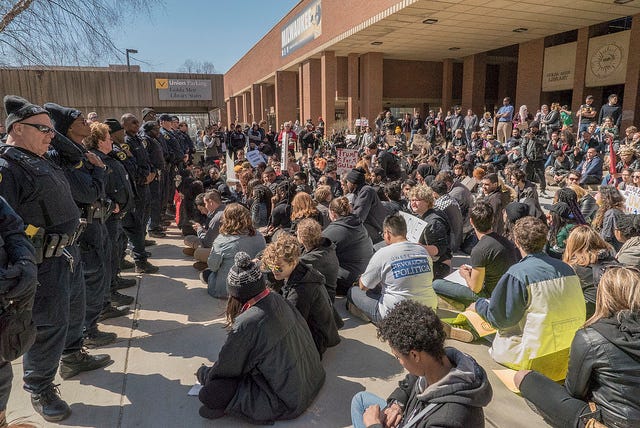 That was then: "The deputy director of the Trump campaign in Washington state has promised to introduce new legislation that would punish protest as a felony if it causes "economic disruption" and hurts corporate profits.
The proposed "Preventing Economic Terrorism Act" marks a radical expansion of legislation that was once used to criminalize environmentalists as "eco-terrorists," and could be used against a wide range of social movements and anti-Trump protesters.
State Sen. Doug Ericksen, the author of the bill, says protests that block highways or roads "such as recent Black Lives Matter protests, or the indigenous movement at Standing Rock against the Dakota Access Pipeline"are "economic terrorism."
In a statement on his website, Ericksen also says that the bill won't be limited to protesters. It will include those who "fund, organize, sponsor or otherwise encourage others to commit acts of economic terrorism."
"We are not just going after the people who commit these acts of terrorism," Ericksen said. "We are going after the people who fund them. Wealthy donors should not feel safe in disrupting middle class jobs." (source)