three years of Zoom Day, and now, Zoom is taking over the environmental movement
Ahh, that was 13 (lucky thirteen) years ago. Imagine that. The story below link!!
I was Mister Sustainability, man, in Spokane: with Gonzaga, with Eastern Washington University, with Spokane Falls Community College, with Spokane Living Magazine, with KYRS Radio, with the Spokesman Review, with the Pacific Northwest Weekly Inlander, and with other venues and scoping exercises.
Terminal Velocity: Man Lost of Tribe is a reader-supported publication. To receive new posts and support my work, consider becoming a free or paid subscriber.
Subscribed
I wasn't wrong to want to belong to the Earth Day kinda people, but even then, while they were swooning over Gore and Obama, and while they pushed all the wrong buttons tied to "my version of earth and the day," I was rebelling and rebuffing and getting a reputation as a devil's advocate, not someone to play in OUR sandbox kinda angry white guy.
Communist, ecosocialist, anti-empire, and certainly puked out on the dirty manure politics of left (fake) and right (Nazi) politics.
Here, one little blurb (all the blogs and things on the Internet with my name on them are going, going and gone):
The rise of sustainability as a force to critique, celebrate and co-modify
Columnist reivigorated after experience with Canadian tribe
Paul K. Haeder, Down to Earth NW Correspondent
It's been more than 16 months since I started with DTE, and what's amazing is the output I've been able to develop for which the editors have given the green light parallels the range of topics I've been given permission to cover – starting with the timely Dispatches from Disaster series covering the Gulf Coast oil madness and the attendant issues, precipitated by Spokane biologist Marc Gauthier's road to the Gulf, and then a movie, "Gulf Coast Blues," here.
Some other highlights: * Want the low-down on how bad golfing can be to the planet? * You think Spokane doesn't have articles on Hispanic farmers in the Pacific Northwest? * Want insights from an EWU water expert importing her Indian philosophy? * Thinking about the next Earth Day? How about a writing contest? * Want to learn about food and climate change? * We have the inside look on bees * We care about the beef you think you are putting into your belly * One of my favorites was a piece I wrote on beaver restoration, from another article that first appeared in Spokane Living Magazine, April 2011.
The road ahead is full of great stuff from my end, and the idea is to expose Spokane readers and other DTE aficionados to incredible stories detailing the ins and outs of the green movement, the sustainability sector, and innovators and collectives looking at deep change in their communities, and for the globe.
I may be pugnacious, and always ready to lambast the vanguard, but I don't take this sustainability topic lightly, and thus, I fortify myself with a dearth of conferences, classes, workshops and presentations.
I've been a leadership student at University of British Columbia's sustainability institute. That July 4-8 2011, class, with a large group of participants and facilitation by innovators in the sustainability world will give much fodder for interesting stories. Look for more finely-tuned and elegantly-grained ways to peel away layers of contextualizing and framing in the sustainability movement/movements. There are innovative things coming from architects, planners, and others looking toward a carbon-less, zero-emission society.
Others in the movement tie into everything from steady-state economics, to deep strategic planning for a world moving toward a century that might be ice-free and food-and-energy hungry. The science of climate change and environmental refugees and collapsing ecosystems is widening the gap between marketers and corporate giants and the reality-based models for mitigating and managing a world in tumbling economic, cultural, ecological and energy systems freefall.
Writers — journalists and poets and novelists – must tackle this topic with aplomb, grace, wickedness and fearlessness. And pick up the pace. This opening salvo is aimed at pretenders and charlatans in this green movement. Sustainability lite will be looked at in future articles. Green-washing will be another. Look for green burials, small nations sustainability projects, and our own community bill of rights, Envision Spokane. More than I can imagine and plan for will radiate into some prescient and creative story ideas.
Sometimes these journeys go down a winding path, crisscrossing my own narrative. Pasts are frames for futures, and I hope to find a deeper meaning in my own story, and all those people I have crossed paths with – as an activist, journalist, educator, and traveler.
Some of those voices I've been lucky to listen to and interact with bring chills in my spine – Robert Bly, Octavio Paz, Denise Levertov, Tim Flannery, several Cousteaus, and countless others. John Francis, planet walker, Novella Carpenter, urban gardener, both fine people looking within and outside in their respective communities, are just two of many who informed, inspired and entertained when I spoke with them. What about all those people from the 1970s on I've been fortunate enough to have interviewed and studied with?
Well, this has to be something of value to readers. What I just appropriated again, after years away from the core of some of my Southwest and meso-American Indian friends, came from the Museum of Anthropology in Vancouver (here).
It's the foundational and simple wisdom I had gained years ago from Mescalero Apaches on the White River Arizona reservation; from Tarahumara throughout the Barranca del Cobre in Mexico; from Buddhists in Vietnam who worked with some of their brethren who self-immolated during the U.S. invasion and war.
I had that wisdom inside me, and over the years I've been in a flurry of thinking, moving, action. The wisdom got watered down. I regained that wisdom while touring a white man's museum in British Columbia, on July 4, 2011.
The (Kwak'wala people of that region of Canada – a First Nations tribe represented in the anthropology museum – brought some relevance back to my own three decades journey writing poetry, novels and non-fiction. How do I reveal deeply held beliefs and fears of this planet?
The Kwak'wala struggled with what they might have chosen to give to the University of British Columbia's museum as evidence of their culture, whether those things that are hidden – Kwik'waladlakw – like wolf whistles and masks, the supernatural powers from their nation – should be gifted.
They allowed the items of the nawalakw, the hidden powers, to be represented through these incredible carvings and representations of the other worlds of their belief and human-nature system.
They grappled with this and decided that giving their wisdom to outside cultures would bring that power and create a healing bridge. In this time of silo-thinking, nationalism, xenophobia, hegemony and superstition rising, it's clear we all have to make more effort to be heard, and to listen. In order to find the meaning in the hidden. This is the time of ecological literacy, clarity, and action. For many, dialogue must replace debate when it comes to earth systems.
+—+
Then, just a few years ago, here, in rural Oregon, on the coast (don't let 'the coast' fool you cuz there are plenty of rich and not-so-rich fools out here), another Op-Ed by Haeder.
Earth should not be virtual
Paul Haeder, Apr 16, 2021, Save
The role of a journalist is to question kooky and misleading narratives that have been foisted upon society, to include myriad of topics tied to Mother Nature.
I do not criticize the people personally, but there is something vitally wrong with this notice: "Central Oregon Coast's Earth Day April 22, 7 to 9 p.m., using the Zoom link: https://us02web.zoom.us/j/82421794771."
Last year, Zoom Day for Earth streamed because of lockdown paranoia. Now, a year later, there is something wrong with holding a single day to celebrate wind, air, soil, sea, freshwater, animals and Homo sapiens.
It should be an everyday event.
But Earth Day has always been a day of action, celebration, confrontation and dialogue. Outside!
We expect hotel rooms to be cleaned, meals to be cooked, tables to be bussed, tanks to be filled with gasoline. We expect toilets to be unclogged and roofs to be repaired. We expect grocery stores to be open. We expect roads to be repaired.
Yet, this one day, with all the available parking lots, the overlooks to the Pacific, the beach territory, the forestland, it will be brought to you and others via Zoom.
I can direct readers to any number of articles on tech people and companies making a killing with remote streaming tools. From writer V. Blue, Engadget:
"The pandemic has us all in vulnerable positions, and some tech companies are just ethics-free enough to step in and take advantage of entire populations being held hostage by COVID-19. They see us as profitable, captive data generators while their PR departments act like they did something virtuous for the greater good. Like Zoom.
Zoom happens to be a privacy nightmare with a terrible security track record — so bad that in late 2019, EPIC (Electronic Privacy Information Center) made an official complaint to the FTC alleging "unfair and deceptive practices."
Rachel Carson, mother of Earth Day, wrote her seminal book, "Silent Spring" (1962) but was immediately attacked and vilified by chemical manufacturers, pesticide purveyors, and marketers of "better living through chemistry."
It doesn't take a concert planner to locate an outdoor area where canopies can be raised, tables unfolded and a barbeque spit dug for a real Earth Day. The cleanest and most efficiently circulated air in the world swells here on our central coast.
Moving on, here is a link to a new short animated video on global warming sent my way: "Why So Little Means So Much" :
It's about comparing 2 degrees Celsius increase in average global temperature to a fever in a child. Produced by Portland's Metro Climate Action Team, Pat DeLaquil shepherded the project.
Paul Haeder: What was your role in producing this animated film?
Pat DeLaquil: I came up with the concept and bounced the idea around with several MCAT members using clip art. Then we developed a script where several of us contributed to editing and refining the message. Once we were happy with the storyboard and script, I placed the task on a platform called Upwork and found an artist that did motion graphics, which are much cheaper than real animation. The entire process took well over six months.
PH: Who is the intended audience for this and how does that audience access this?
PDL: We believe we have several target audiences among people who accept that climate change is happening, but don't realize how bad the crisis can quickly get and why strong action is needed now. e believe this group broadly includes people with children and grandparents, as well as civic groups and the faith community.
PH: Explain your background in research climate change — two sentences.
PDL: I have been a leader in the commercialization of clean and renewable energy technologies for over 40 years, and for the last 20 years, I have run a small business that develops and uses models to perform policy analyses on behalf of donors, governments and the private sector to identify optimal pathways for achieving economic development and environmental goals. I have led the formation of two clean energy start-up companies and earlier led the development of two key solar energy development projects: PV for Utility Scale Applications (PV-USA) and the 10 MW Solar Two Power Tower Project.
PH: Three reasons you believe people in the U.S. still have difficulty understanding global warming, ocean warming, ice and glacial melting.
PDL: Disinformation and deliberate politicization of the issue are strategies used by the right (dominated by fossil fuel interests and their fellow corporate oligarchs). The second reason is that most people are busy with life — just making ends meet between jobs, kids, even before the pandemic, so it's easy to ignore or deny the severity of the issue, or just hope someone does something. Third, some people in industries that rely on fossil fuels feel threatened that all this is just a plot to take away their lifestyles.
PH: What do you hope this flick will do to move policy makers/stakeholders to work on the very difficult issue of ocean level rise/inundation, extreme weather, crop failures, unlivable urban and rural communities?
PDL: We really hope that this video will motivate people who are not yet active to become more engaged in pushing their elected officials to act quickly to combat climate change.
+—+
BIG end NOTE: It has to be made clear that the new normal should not and will not be Zoom. It will not be this bullshit world of throwing trillions at high tech companies. It will not be this world of staying compliant in our homes and gardens and tents.
Earth Day 50 years later should be a celebration of the heroes who have fought against the killers of culture and jungle and rain forest and species. Instead, after 50 years, in this shit-hole quarantine mentality, we have people who want to celebrate the Great First Extermination event, what some have called the Sixth Mass Extinction, which is really the Seventh Extinction.
Every year, more than 100 environmental activists are murdered throughout the world. 116 environmental activists were assassinated in 2014. More than two environmentalists were assassinated every week in 2014 and three every week in 2015. 185 environmental activists were assassinated in 2015.
A new report from Global Witness found that three environmental defenders were murdered every week in 2018 and many more were criminalized for working to protect the land, water and other vital resources.
[chart on killings per country[
"People are being killed because they are demanding their basic rights, in particular, the rights to access to land and to be free in their territories," Luis Gilberto Murillo, the former governor of the predominantly Afro-Colombian state of Choco and former minister of environment and sustainable development, said on "Democracy Now!" "The way to avoid these killings is the full implementation of the peace process. There is a national commission to guarantee the protection of social leaders in the country [which] has not been convened regularly by the current government." Source.
So, I have to say that celebratory events like Earth Day are long in the tooth. We need action. We need tools. We need fire in the belly. We need role models. We need recruitment. We need the new tools of the modern post industrial Anarchist Cookbook. We need to celebrate our own eco-warriors, and the fact the Green is the New Red. We have to fight the industries that most Americans support by stuffing their faces with cheese, swine, chicken, beef, lamb who are on a witch hunt, getting more and more Gestapo laws against peaceful protest. We have to tell young people how to fight the systems of oppression. We don't need no stinking Earth Day kumbayah.
We need Tim DeChristopher pre-incarceration for protesting illegal land lease sales in Utah. Nine years ago, here he is speaking to youth:
Tim DeChristopher | Power Shift 2011 Keynote
Remember, if you toss a can of paint or pool acid on an SUV or Hummer, you could face 25 or more years in federal prison. Remember, if you get on the radio and attack McDonald's burgers or attack the swine industry, or if you take photos from a public road of a High Fructose Corn Syrup plant, or if you protest with signs outside a slaughter house, or if you go to the state capital of your choice and do a little street theater about timber industry killing babies with their Agent Orange spraying, or if you put your body and life in the way of a bunch of construction machines for a telescope siting in Hawaii, well, you get the picture. This is of course not the Earth Liberation Front or Animal Liberation Front, but we all should be those people, like all people on Turtle Island who can't trace their lineage back to Native Tribes should ALL be illegal aliens.
Earth Day is about celebrating the warriors, those that exposed Love Canal, or people like Rachel Carson who was spied on and wire tapped and tailed by feds and industry pigs. Or Ralph Nader, Dangerous at Any Speed, who was the target of mafia hit men hired by GM, Ford, you name it, just for demanding safer death trap vehicles.
Celebrate the fighters in fence-line communities: Environmental racism is real.
As documented in Richard Rothstein's 2017 book, 'The Color of Law,' extensive federal, state and local government practices designed to create and maintain housing segregation also assured that polluting facilities like industrial plants, refineries, and more were located near Black, Latino and Asian American neighborhoods," said Bruce Mirken, a spokesman for The Greenlining Institute, a public policy advocacy group in Oakland. "Extensive data show that low-income communities of color still breathe the worst air and have excessive rates of pollution-related illnesses like asthma and other respiratory problems. These problems won't fix themselves. As we move away from oil, coal and gas to fight climate change, we must consciously bring clean energy resources and investment into communities that were for too long used as toxic dumping grounds.
In the end, if we do not push back hard and shut down the country — The Industrial Continuing Criminal Enterprises of Wall Street, Banking, Real Estate, Military, Prison, Chemical, Pesticide, Fossil Fuel, Logging, Surveillance, Hi-Tech, Medicine, Pharma — then we are just Nero Fiddling While the Entire Ranch is Razed, Logged, Polluted and Immolated by the system that most "earth days" hate to bring up — CAPITALISM.
There ain't no new green deal if the billionaires and corporations are leading the charge, creating the conduits for profit, paying the bills of the so-called environmental movement. Green is the New Black is a book like Green is the New Red.
Environmental Racism in America: An Overview of the Environmental Justice Movement and the Role of Race in Environmental Policies
Black Lives Matter: Environmental Racism Is Killing African-Americans
In the end, we are all expendable, so why not think the earth is expendable.? We are all — the 80 percent — in sacrifice zones: food deserts, box store hell, road and highway infernos, clear cut landscape, smokestack gulags, chemical spray prisons.
Sacrifice zones: This leads to sacrifice zones, places where people, mostly of color and low wealth, live beside hyperpolluters and in harm's way. In Houston, for example, an oil refinery, chemical plant and Interstate 610 surround the Manchester neighborhood, home to roughly 3,000 people. Not surprisingly, the cancer risk for people living in Manchester and neighboring Harrisburg is 22 percent higher than for the overall Houston urban area, according to a recent report by the Union of Concerned Scientists and Texas Environmental Justice Advocacy Services. Robert D. Bullard is a distinguished professor of urban planning and environmental policy at Texas Southern University and is often called the "father of environmental justice."
Environmental Activists Have Higher Death Rates Than Some Soldiers
164 Activists Were Killed Defending Land and Water Last Year
My "earth day" is about taking it to the streets. It's not about John Denver and Melissa Etheridge or Darrel Hannah or Al Gore or Bill McKibben. It's about getting younger and younger people to the table, to the trenches. It's about the old giving it up to the not-so-old. It's about inviting families of loggers miners ranchers aerospace trucking to the table and showing them the value of deep ecology, food systems that are localized and regionalized, showing them the value of nutrition versus consumption. Radical means root, and we need radical change, radical activism, and monkey wrenching and celebrating those who already "got this" earth and cultural justice years ago.
Ten years ago, man, taking it to the streets, in Spokane!
Spokane's Earth Day 'takes to the streets' to reach people
Spokane's 40th anniversary Earth Day celebration will be on Main St. downtown rather than on grass at Riverfront Park.
This was about getting people who normally do not do these self-congratulatory and aggrandizement to the table — the poorer folks, who came to this event because we had 2nd Harvest there giving out food boxes AND because of all the family activities. We had school kids making bat boxes, bird houses, and bird feeders with an army of volunteers, even from Kohl's donating some community service time. We shut the street down (like a huge thing with Police and Fire department honchos), put up a main stage, and we even had the even go into the night with local musicians playing. We had the even live on the radio KYRS-FM. We had in your face people like me, and others (though greenie weenies unfortunately predominate the so-called "nice earth day" gigs); and then the mayor of Spokane, and other politicos spoke while the main stage was powered with solar panels. We had that friction between those who believe in hope and those who fight for change and not for hope. We also made sure that Earth Day would continue in Spokane at the colleges and at public events the entire year afterwards. that was a whole other series of events a few years before that I organized, many, a year of sustainability for ALL of the city. We made sure that this one day was just the tip of the iceberg. Action, action, action. Grow, grow, grow the leadership and the army of young people.
But, alas, that was a decade ago, and alas I have gone on some really bumpy miles (thousands upon thousands of miles) away from that outpost — from English faculty, radio show host, columnist, urban planning graduate student; to union organizer in Seattle, DC, Mexico City, Bend, Oregon, to Occupy Seattle teacher; to social worker for adults with developmental disabilities, to memory care facility engagement counselor, to social worker for homeless in downtown Portland, to social worker for homeless veterans and their families, to counselor for foster teens; now a decade later — to the Oregon Coast as author, columnist, substitute teacher, and site director for an anti-poverty project in Lincoln and Jefferson counties. And more. Ten Years, a marriage, a divorce, another marriage, to Lisa, here in Waldport scratching out a living. New book out, quashed public readings, and now, five minute April 22 on the Zoom Earth Day. Crazy ass changes, and yet, at age 63, I have always predicted that if lazy ass consumer USA Murder Inc. continued to do what it always had since end of WWII, then, we would end up here — complacent, fearful, colonized, co-opted, in the belly of the beast, collectively enmeshed in Stockholm Syndrome, and more.
Support my recent work, now that the hysteria and complete lack of mental, intellectual, and spiritual acumen has occurred in the United States of Amnesia. Wide Open Eyes — Surfacing from Vietnam, short story collection.
April 22, Newport, Oregon, Zoom Day, Earth Day. Not the new normal. This is a one-time deal for me. Newport celebrates Earth Day via Zoom on April 22.
Give me Chris Hatten any day, over the self-important people who think Earth day is only about feel-good, celebrating a few more birds out on the shore because we are all sheep in this collective lock-down!
In the eye of the eagle (Here, since all my pieces on the previous link have disappeared: "In the Eye of the Eagle."
One-Minute Q & A with Chris Hatten
Paul Haeder — What is your life philosophy?
Chris Hatten — Make the best use of your time. Time is short.
PH — How do we fix this extractive "resources" system that is so rapacious?
CH — We need to value forests for the many multitude of services they provide, not just quick rotations. Forests are not the same as fields of crops.
PH — Give any young person currently in high school, say, in Lincoln County, advice on what they might get out of life if they took your advice? What's that advice?
CH — Get off your phone, lift up your head, see the world for yourself as it really is, then make necessary changes to it and yourself.
PH — What's one of the most interesting things you've experienced — what, where, when, why, how?
CH — I have had very poor people offer to give me all they had in several different countries. Strangers have come to my aid with no thought of reward.
PH — In a nutshell, define the Timber Unity movement to say someone new to Oregon.
CH — They are people who mostly work in rural Oregon in resource extraction industries and believe they are forgotten.
PH — If you were to have a tombstone, what would be on it once you kick the bucket?
CH — "Lived."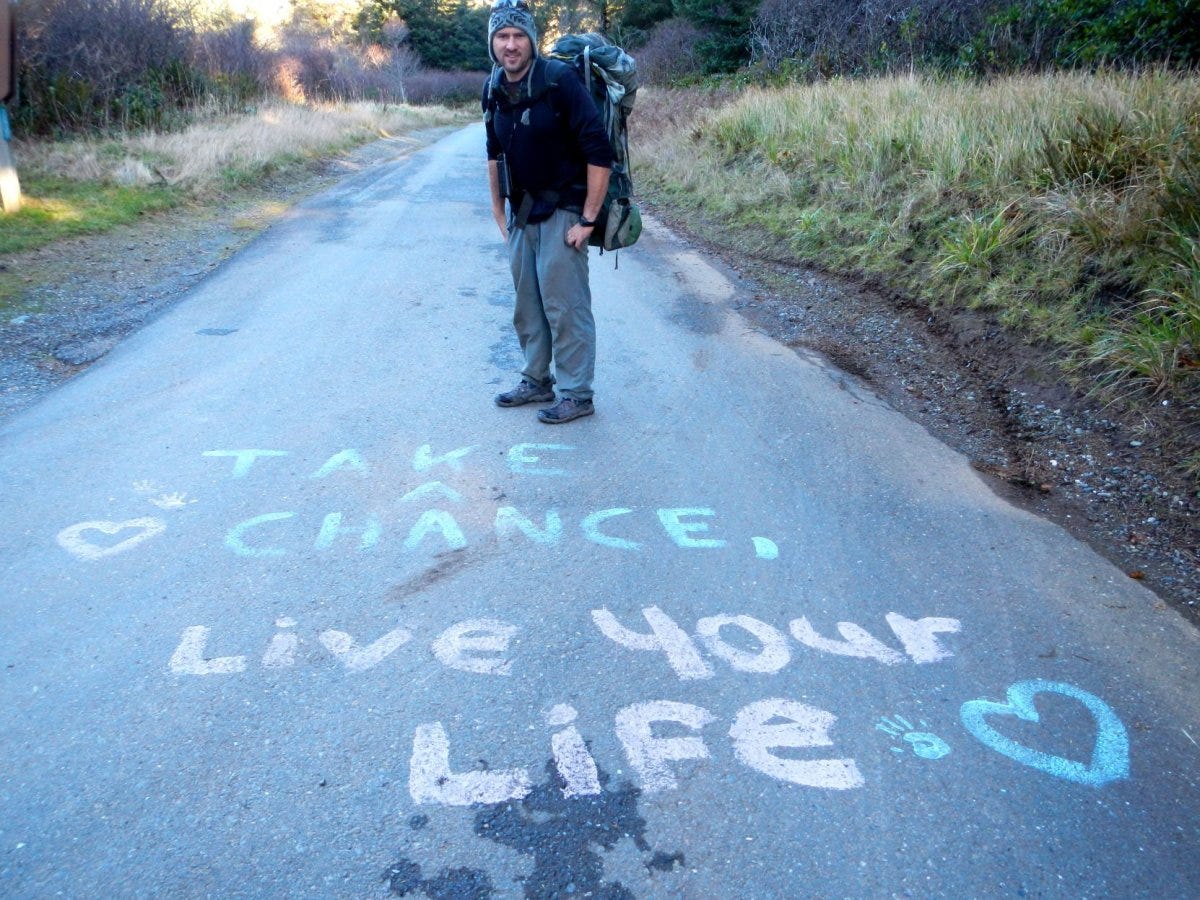 Here's that really old article, man, 2010, Earth Day, referenced above at the beginning of this novella.
Spokane's Earth Day 'takes to the streets' to reach people
Spokane's 40th anniversary Earth Day celebration will be on Main St. downtown rather than on grass at Riverfront Park.
[Paul Haeder and Molly Callen on Main St., the venue for Earth Day 2010.]
Co-coordinators Paul Haeder, 53, a teacher, journalist and activist who came to Spokane in 2001, and Molly Callen, 24, a Spokane K-12 substitute teacher who grew up in Spokane, said they are "takin' it to the streets" because urban life is expanding and because grass uses water, fertilizer and herbicides.
Molly was involved last year with a children's activity, helping build 350 bird feeders and wanted to expand the educational component.
"I came to an early planning meeting. Few came, so I became a co-coordinator," said Molly, who attended Spokane Falls Community College and graduated in 2008 from Eastern Washington University with a bachelor's degree in reading and elementary education. "I want children to go home knowing they can grow their own food, plant flowers and make bird houses."
Along with studies for a master's in special education and her work substitute teaching, she has volunteered 30 hours a week for Earth Day planning.
Concerned since her teen years about animal rights, environment and human rights, Molly wants to educate people on these causes and finds Earth Day a means to do that.
There will be resources to help people learn how to live sustainably, such as alternative ways to commute without using fossil fuels—bikes, skateboards, long boards and roller skates.
To help meet a goal of drawing low-income people, Second Harvest will be at Earth Day for a two-hour food distribution.
"All we need to do is care," Molly said. "Then we can live intentionally and responsibly."
Co-coordinator Paul was 14 and lived in Tuscon, Ariz., on the first Earth Day in 1970. He remembers addressing urban sprawl and organizing the religious community to challenge a law that allowed for unregulated trapping of "God's creatures"—kit fox, bobcats and coyotes.
He began to advocate for sustainability's three "E's"—equity, environment and economy. Now the movement has added two more "E's"—energy and education.
Through Earth Day, he hopes to inspire a new "green generation" to be active, so the world "will not be inundated in rising sea levels and surpass the tipping points into a total collapse of many of the earth's eco-systems."
Paul—who teaches English and literature at Spokane Falls Community College, consults with the college president on sustainability issues, writes a column in The Inlander and does the "Tipping Points: Voices from the Edge" show on KYRS Thin Air Radio—has seen first hand around the globe many parts of the environment reaching the so-called "tipping point."
"We still have a chance to pull back and take weight off the structure, but we can't take for granted that it will not collapse," he said. "Young people need to reverse the course so the earth will be livable and equitable.
"Without education and social justice, we can't achieve energy efficiency needed to move into a post-carbon world and we can't have a sustainable economy," he said.
Growing up Paul lived in Paris, British Columbia, Munich and the Azores, because his father was in the military. He earned a degree in biology, journalism and English in 1979 at the University of Arizona and a master's in English in 1986 at the University of Texas. Between degrees, he worked for newspapers in Southern Arizona, Mexico, Central America, Europe and Texas.
Influenced the Earth Charter sustainability movement and by liberation theology as his ethos, Paul said his environmental and social justice activism involved him in fighting environmental injustice on the U.S.-Mexican border where major U.S. companies operate sweatshop factories.
Those factories, maquiladoras, pay Mexican workers $3 to $4 a day to produce consumer goods, using environmentally harmful processes and highly toxic substances, he said.
He is concerned that "many young people today are products of the corporate world and do not know how to live lightly."
"They need to gain a green sense and need to follow the operating instructions of Mother Gaia (Earth): We are not to pollute the water or air," he said.
Paul wants young people to know that every bite they take, everything they do, every breath they take and every cell phone call they make is political. He wants to stop the slide into "a Holocaust of all people and genocide of all species."
He also hopes Earth Day 2010 will reignite the interest of colleges, churches, the city and county to join in planning future Earth Days, expanding interest beyond "conservation groups, hybrid-car drivers and kayakers."
Citing projections about global trends of population shifts to urban areas—51 percent urban in 2008 to 65 percent by 2030—he said sustainability will require planning and building communities that are denser, pollute less, have more mass transit and engage people in neighborhoods and politics.
"There's so much work to do," he said, pointing to challenges of global-warming denial and oil companies' readiness to exploit reserves in the Arctic after the ice cap melts in 30 years. "We must do more than the baby-step choices between Styrofoam or paper cups."