Isn't it really puzzling that "a large portion of U.S. aid to Israel is classified"? — Grant F. Smith, "Ten ways the Israel lobby 'moves' America," 7/25/2016
Israel's Influence: Good or Bad for America? An analysis of the history, size, scope and activities of Israel affinity organizations and their increasingly negative—but little known—impact on all Americans.
Do a deep dive and look into all those upper echelon Admin folk, all of them, and their attitudes about people, us, the regular schmucks. Really, have the guts to parse into that. Billionaires in the shadows, and multimillionaires up front and center. The elite, the controllers, the gatekeepers, the amazing beautiful people, the moneyed and the influential. Ivy League, banking and Wall Street pedigrees, million dollar loans, free helping hand up to hedge funds, fiat money, houses, paid board memberships, speaking fees in thehundreds of thousands of dollars for each Power Point or TED Talk like Goldman Sachs wine and dine club.
Have you ever seen a pauper in administrations? Have there ever been poor people put on these committees? How many states utilize the voices of us, the 80 percent, in charrettes, committees, white papers, research tasks, meetings, sounding boards, public engagement workshops?
You ever going to see an amputee caused by, diabetes, with double jowls and threadbare clothes being interviewed by the stenographers of the rich, US mainstream-corporate media? Below, from Scheer Post, a reprinted story on this guy. Not the one who is the vampire asleep to the right. We are talking about the guy with the curly hair. Another worthless human. But, he is ruling the roost and running society into the gutter, in his own specialized way. He'd never go toe to toe with anyone who might question the entire drama of the planned pandemic and the suicidal responses by everyone making a buck off the show. EVERYONE. Conflict of Interest is a requirement for the job in DC!
Biden Urged to Fire Covid Response Chief Over 'Damning' Failures
Zients was born in Washington, D.C. and raised in Kensington, Maryland. His family is Jewish. Zients graduated from the St. Albans School prep school in 1984 and received a degree in political science from Duke University, graduating summa cum laude in 1988
CDC freak?
Walensky was born Rochelle Paula Bersoff in Peabody, Massachusetts, to Edward Bersoff and Carol Bersoff-Bernstein, a Jewish family. She was raised in Potomac, Maryland.
Vet science guy who is head of Pfizer —
Bourla was born and raised in Thessaloniki, Greece. His parents, who were Sephardi Jews, were among the 2,000 of 50,000 Jews in Thessaloniki to survive the Holocaust; According to Bourla, his mother was allegedly minutes away from execution by firing squad when she was spared via a ransom paid to a Nazi Party official by her non-Jewish brother-in-law, while his father happened to be out of the Jewish ghetto when the residents were taken to the Auschwitz concentration camp and went into hiding, never to see his parents again.
Then, the disasterous war mongers —
Blinken was born on April 16, 1962, in Yonkers, New York, to Jewish parents, Judith (Frehm) and Donald M. Blinken, who later served as U.S. Ambassador to Hungary. His maternal grandparents were Hungarian Jews. Blinken's uncle, Alan Blinken, served as the American ambassador to Belgium. His paternal grandfather, Maurice Henry Blinken, was an early backer of Israel who studied its economic viability, and his great-grandfather was Meir Blinken, a Yiddish writer.
Sherman was born in Baltimore, Maryland, to a Jewish family. Her father, Malcolm Sherman, was a Marine originally from Philadelphia. While she was in elementary school, her family moved to Pikesville, Maryland, and Sherman attended Pikesville High School. Sherman attended Smith College from 1967 to 1969, and graduated from Boston University in 1971 in the field of sociology and urban studies. In 1976, she earned a master's degree in social work from the University of Maryland. She subsequently began her career as a social worker, before going into politics.
Even Kamala Harris, still, with these elites discussing her marriage — from Jerusalem Post: It is not surprising that the Jewish community is excited to be represented on the Biden-Harris ticket. Political leanings of the community aside, Kamala Harris's husband, Doug Emhoff, is a member of the tribe, and two of Joe Biden's children are married to someone who is Jewish.
But sadly, the Jewish community is a bit selective in celebrating interfaith marriage. If it brings us a Jewish second gentleman, we will cheer. But interfaith marriage is still taboo to many, and an Orthodox or Conservative rabbi would not have been allowed to preside over the Harris and Emhoff wedding.
American Jews want to celebrate the Jewish ties of any famous person while still discriminating against the relationships that tie these individuals to the Jewish community.
J Post article.
A tribe indeed, according the WikiPedia page (referrency the above early life bios), and then the JP! What do people's families and educations and influences and religious and economic narratives and tribes have to do with their worldview? Interesting! Jewish newspapers in Israel highlighting, well, their tribe's participation in Criminal Capitalism — Jewish Members of the 117th Congress
White House Chief of Staff Ron Klain
Secretary of State Antony Blinken
Secretary of the Treasury Janet Yellen
US Ambassador to Israel Tom Nides
Secretary of Homeland Security Alejandro Mayorkas
Member of Council of Economic Advisers Jared Bernstein
Special Presidential Envoy for Climate John Kerry/Cohen
COVID-19 Czar Jeff Zients
CDC Director Rochelle Walensky
US Attorney General Merrick Garland
Director of National Intelligence Avril Haines
Deputy Secretary of State Wendy Ruth Sherman
Science and Technology Adviser Eric Lander
Deputy National Security Advisor Ann Neuberger
Deputy CIA Director David Cohen
Deputy Health Secretary Rachel Levine
US Special Representative for Iran Robert Malley
Second Gentleman Doug Emhoff
Thomas Nides likely to be US ambassador to Israel,
Biden says —
"They will tell me what I need to know, not what I want to know." They. Who are they, the big they, the tribe of "they," or the elite "they," or those who would bow and kneel to the big war criminal deluxe, Kissinger? That is certainly emblematic of how rotten the spines are in the ruling class (sic). One tribe, and it maybe Catholic, or Jewish, bringing into the fold the others. The Others from Another Mother!
I am always intrigued by the press and the leaders in the generalized Jewish community who make sure to point out the who's who in the Jewish "tribe" as they all it. Hollywood, medicine, physics, finance, money. Here, Jewish Telegraphic Agency, headline — Here are the 37 Jewish members of Congress
Michael Bennet, Colorado
Richard Blumenthal, Connecticut
Ben Cardin, Maryland
Dianne Feinstein, California
Jon Ossoff, Georgia (freshman)
Jacky Rosen, Nevada
Bernie Sanders, Vermont
Brian Schatz, Hawaii
Charles Schumer, New York
Ron Wyden, Oregon
Jake Auchincloss,
Massachusetts
Suzanne Bonamici, Oregon
David Cicilline, Rhode Island
Steve Cohen, Tennessee
Ted Deutch, Florida
Lois Frankel, Florida
Josh Gottheimer, New Jersey
Sara Jacobs, California
David Kustoff, Tennessee
Andy Levin, Michigan
Mike Levin, California
Alan Lowenthal, California
Elaine Luria, Virginia
Kathy Manning, North Carolina
Jerry Nadler, New York
Dean Phillips, Minnesota
Jamie Raskin, Maryland
Jan Schakowsky, Illinois
Adam Schiff, California
Brad Schneider, Illinois
Kim Schrier, Washington
Brad Sherman, California
Elissa Slotkin, Michigan
Debbie Wasserman
Schultz, Florida
Susan Wild, Pennsylvania
John Yarmuth, Kentucky

And, another fine mess we are in, Olly — A who's who of the powerful, the Peter Principle pirates, the reverse social Darwinism befefactors, and the criminals now being preened as statesmen and heroes. One guy — the influencer war criminal: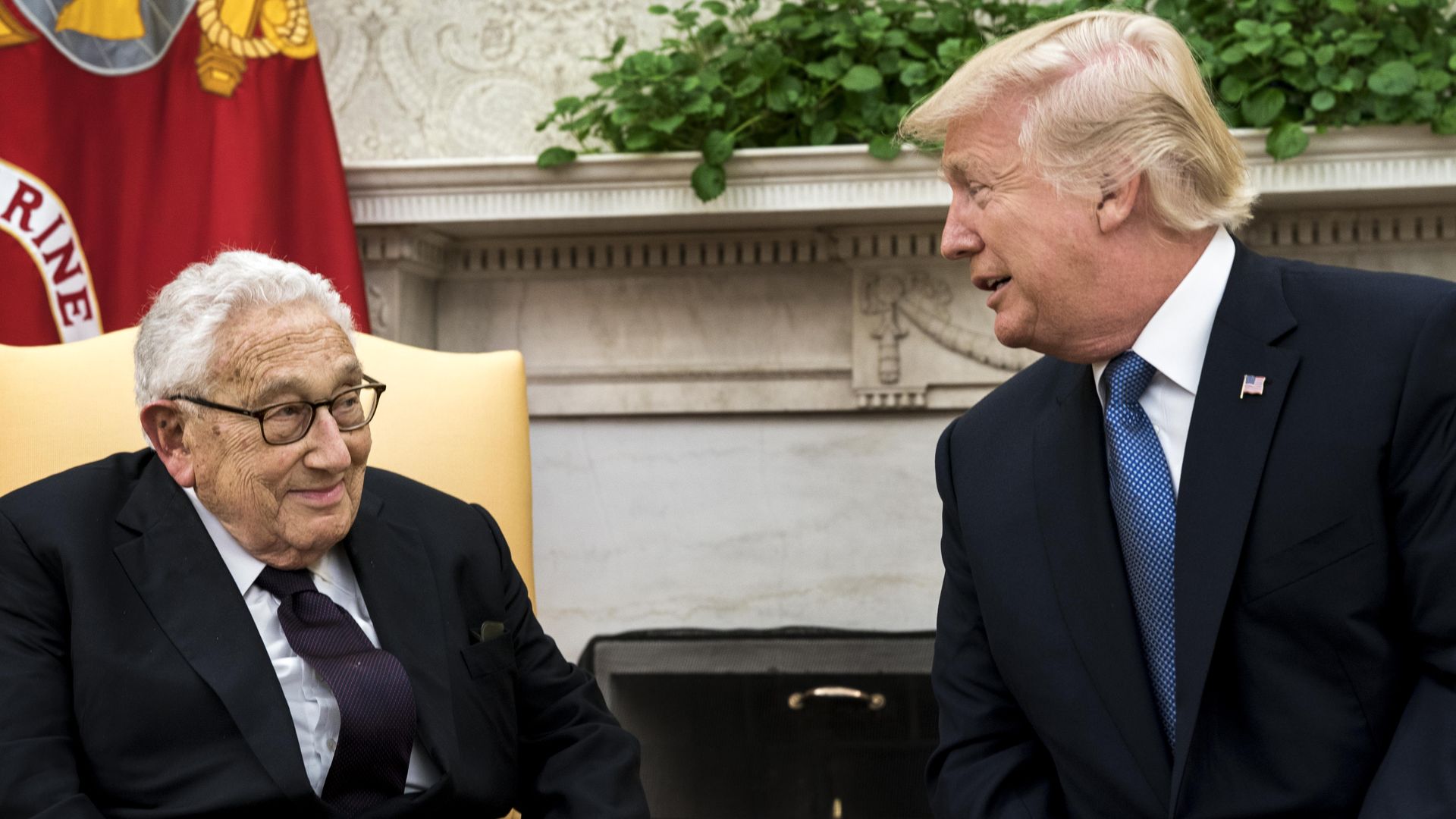 Welcoming War Crimes: The Normalization of Henry Kissinger
On Thursday February 2nd, the Institute of Politics will host "A Conversation with Henry Kissinger." On its website, the IOP describes the controversial statesman with two titles:
"Henry A. Kissinger
Chairman, Kissinger Associates, Inc.
56th United States Secretary of State"
They neglect a third, more accurate label: War Criminal.
During his brief tenure at the forefront of U.S. foreign policy, Kissinger got a lot done. In his first two years in office, he helped Richard Nixon sabotage Vietnamese peace talks for his own political gain, expanded that war into Laos and Cambodia (the destabilizing effects of which would pave the way for the rise of the Khmer Rouge and the death of up to two million people), and advocated the bombing of, in his own words, "anything that moves."
In 1971, Kissinger backed Pakistan in its war against Bangladesh despite evidence of massacre and rape. In '73, he orchestrated a military coup against the democratically elected Allende regime of Chile, installing in its stead the violently oppressive Pinochet dictatorship. And in '75, the then-Secretary of State lent his tacit support to President Suharto of Indonesia―himself a despot already responsible for the mass killings of hundreds of thousands―in the deadly conquest of East Timor. Kissinger himself, in proposing an intervention in Cyprus, summed up his philosophy best: "The illegal we do immediately; the unconstitutional takes a little longer."
Appalling though this all may be, Kissinger's most enduring legacy is subtler in its malignance. The foreign policy of Henry Kissinger is defined, above all, by an utter contempt for human life and absolute pursuit of "American interests." For every one of Kissinger's crimes that goes unpunished and for every bit of praise he receives, the belief that the United States can do whatever it wants with the rest of the world is further concretized. Behind every thoughtless, disastrous intervention since then―behind the mujahideen and the Contras, behind the Iraq war and the El Mozote Massacre―is the work of Henry Kissinger.
When the IOP invites Henry Kissinger to the Harvard Kennedy School with no representation of opposition views, they are doing more than "hosting a conversation." They are providing a platform for the insidious belief that the lives of others, particularly those of poor people of color in the "developing" world, are mere pawns in the pursuit of American ends. Like telling a racist joke, the harm of this "conversation" is not merely in the act itself, but also in the seeds that it sows in our cultural consciousness―the legitimization that it confers.
end quote!
This never ends, these remade war criminals, these banking thieves, these Panama Papers thieves of the ultimate category — national killers.
Israeli Prime Minister Netanyahu's remarks about Israel's dominance of big data, connectivity and artificial intelligence: "With the click of a button, you can bring down nations to their knees very rapidly… Because every system can be hacked"! PM Netanyahu's Remarks at the Cyber-Tech Conference
"Well here is another fine mess you to me into!"
Ahh, the tribe of the Ivy League, the Council on Foreign Affairs, Davos, Alpine Institute, World Economic Forume, Skull and Bones Club, Bilderberg, et al.
There can be no other work in journalism than to uncover who is in control, and who controls the controllers. No other way to say this, but we need to not have this softball childish celebrity Q & A or whitewashing crap that has turned into celebrity TV-Cable mush, or the comics making idiotic journalistic attempts at commentary. We need these people exposed, and we need to have the guts to look into their paymasters, their spying armies, and if they are proud of their Catholic roots, their Harvard sheepskin, their rugby pals down under, their own upbringings and family lines and ties. Then we need to get at them, and bring them down, by any means necessary. Cuz whitey's not just on the moon, but in the ether, inside nanochips, going to Mars, sinking digital teeth into everything, into all manner of humanity. Whitey is Going Transhuman, and Whitey on the Moon aint nothing like Whitey in your Brain, in your Chip, in your blood!