"The people that are actually fleeing via the sea that are on tremendously unseaworthy dinghies — most of the time without life jackets, without enough food or water — are in extreme danger, and they cannot always be rescued." — Laurence Bondard of SOS Méditerranée, a humanitarian group that rescues migrants at sea
Oh, people raise their hands and say, "What are we to do? It's too big. Too many social justice issues. Too much. What can Americans do?'
Funny stuff, the disgusting Libya now that Clinton and Obama and Biden destroyed that country. Oh, too bad the Beady Eyed Biden and His Elite East Coast Ivy League Goy and Jews in his Administration are just as putrid producing.
This is the dying Empire, and those former Empires, despicable and murderous, for sure. Trillions wasted on hypersonic missiles and the endless million dollars for each US "soldier" deployed for a year in another country. Dispicable the pigs that are cops beating nuns and peaceful protesters trying to protect land, soil, air, life — beating all around the world for those of us with those ovaries and testicles to protest the high crimes of the elite with the rumble of governments that are prostituting for shekels who deploy the many armies of repressors.
Guts, like Paul Watson and whales:
[Sea Shepherd, stopping the murder of cetaceans and other earth creatures]
The Gestapo will murder Chico Mendez, Palestinians, Africans like Wangari
You can't show this video to US children, because it's not part of the Empire's narrative, not part of the curriculum, because then we'd have to show land defenders, in this country, Turtle Island, pounded, pepper spayed and beaten to defend water and land:
There is a deficit of humanity in these Democrats' zombie bodies, inside the so-called leaders' hearts, all part of the devils that comprise all the rotten people in charge, shepherding along the Neoliberalism of Clinton-Obama-Biden. The Bush Family and the Bush administrators in those shit hole administrations, all war criminals. Same in Nixon and Reagan and Carter and Ford and LBJ administrations. Trump? The epitome of Jerry Springer Candidates, and there are many already in the Senate, Congress, in state houses, on local boards. Oh, JFK, Jr, murdered by CIA because he was against the military industrial complex, against imperialism and colonialization and war.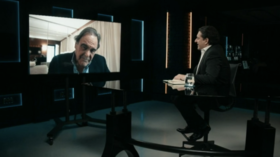 This despicable country, all those deplorable people, from Gates-Kissinger-Hillary-Trump and all the way through the East Coast Elite Ivy League trained Economic Hitmen, and those snake charming redneck conservatives, all of them, deplorables. There are man deplorables, many more than the Clinton declaration, or what Mitt Romney stated, too — the 47 Percenters: May 17 2012, "There are 47 percent of the people who will vote for the president no matter what … who are dependent upon government, who believe that they are victims. … These are people who pay no income tax. … and so my job is not to worry about those people. I'll never convince them that they should take personal responsibility and care for their lives."
Ahh, those 47 Percenters. More like 20 percent of the USA fails to pay taxes, depends on huge government contracts for roads, buildings, space toys, military, and all the infrastructure to make billions and millions. Those are the ones dependent upon we the people's labor, sweat, taxes, fees, fines, surcharges, penalties, add-ons, tolls, interest charges, balloon payments, PayDay loans. Hoarders.
"Global Witness records the highest number of land and environmental activists murdered in one year – with the link to accelerating climate change of increasing concern"

Shockingly, over half of all reported killings last year occurred in just two countries: Colombia (peaking at 64) and the Philippines (rising from 30 in 2018 to 43 in 2019). Globally, the true number of killings was likely much higher, as cases often go undocumented.

These killings include the murder of Datu Kaylo Bontolan, murdered in the Philippines after opposing illegal mining in the area. A Manobo leader, he was one of many indigenous people killed in 2019, asserting their right to self-determination and protecting their ancestral lands from those looking to exploit their natural resources.

Mining was the deadliest sector globally with 50 defenders killed in 2019, with agribusiness remaining a threat, particularly in Asia – where 80% of agribusiness-related attacks took place.

There have also been increasing threats and attacks in Romania, including the killing of Liviu Pop. A ranger working to protect one of Europe's largest, primeval climate-critical forests, Liviu was shot and killed after protecting trees in a country where organised criminal gangs are decimating these forests.
You will not see action at all from both sides of the feces heap. Nope. These motherfuckers have gone on long ass paid recess, and they are the criminals, no?
Her recent piece in Time magazine is headlined I Lived in My Car and Now I'm in Congress. We Need to Solve America's Housing Crisis.

Last week, Congressmember Bush introduced the Unhoused Bill of Rights, which she describes as "the first-ever federal legislation to declare the civil and human rights of unhoused individuals, particularly the right to sit, stand, sleep, or eat in public without fear of harassment or criminalization." Earlier today, Congressmember Bush tweeted "5 AM. This morning felt cold, like the wind was blowing straight through my sleeping bag. Since Friday—when some colleagues chose early vacation over voting to prevent evictions—we've been at the Capitol. It's an eviction emergency. Our people need an eviction moratorium. Now."
Optics, man, and even dying children in the desert along the Tortilla Curtain, La Frontera, none of those realities and column inches and TV shots expedite National (sic) Guard (wimps) and the DoD and the ATF and the Border Patrol and millions of others to actually set up safety nets. We are that dying mass of cancer. But murderers, nonetheless.
We — the 80 Percent in USA, 90 Percent Collectively Globally — are the nobodies, useless eaters, useless breathers, useless breeders.
Galeano, Eduardo, R.I.P:
The Nobodies

Fleas dream of buying themselves a dog, and nobodies dream of escaping
poverty: that one magical day good luck will suddenly rain down on
them—will rain down in buckets. But good luck doesn't rain down
yesterday, today, tomorrow, or ever. Good luck doesn't even fall in a
fine drizzle, no matter how hard the nobodies summon it, even if their
left hand is tickling, or if they begin the new day with their right
foot, or start the new year with a change of brooms.
The nobodies: nobody's children, owners of nothing. The nobodies: the
no ones, the nobodied, running like rabbits, dying through life,
screwed every which way.
Who are not, but could be.
Who don't speak languages, but dialects.
Who don't have religions, but superstitions.
Who don't create art, but handicrafts.
Who don't have culture, but folklore.
Who are not human beings, but human resources.
Who do not have faces, but arms.
Who do not have names, but numbers.
Who do not appear in the history of the world, but in the police
blotter of the local paper.
The nobodies, who are not worth the bullet that kills them.
Remembering Eduardo Galeano, Champion of Social Justice & Chronicler of Latin America's Open Veins