Of course, duh, the USA would never ever use insects, poisons, toxins, bacteria, prions, viruses, and nucleotides (and propaganda) to exact economic and human revenge on the USA's list of enemies!!!!!
But first, here we have more of these sick billionaires, and of course, we have to hear about and see it: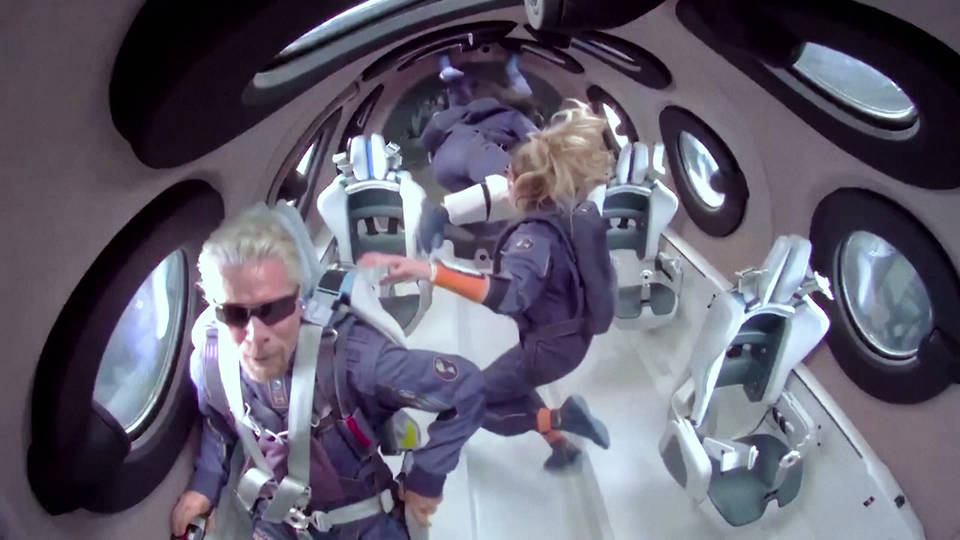 From the goofier and more goofy Democracy Now:
British billionaire Richard Branson rocketed to 53 miles above the Earth on Sunday in a test flight of his privately funded Virgin Galactic space plane. Branson's trip above the atmosphere came just days before the world's richest person — Amazon founder Jeff Bezos — is set to fly to the edge of space aboard his self-funded New Shepard rocket. This month Bezos stepped down as Amazon's CEO, in part to focus on his rocket company, Blue Origin, as it struggles to compete with billionaire Elon Musk's privately held SpaceX corporation. In response, Vermont Senator Bernie Sanders told The New York Times, "You have the richest guys in the world who are not particularly worried about earth anymore. They're off in outer space."
Old Sanders just can't muster up much more than that limp-wristed comment: "You have the richest guys in the world who are not particularly worried about earth anymore. They're off in outer space." . And, where are the millions decrying these billionaires' sick narcissistic and polluting schemes, their illegal alien launches into space, the 5G and 6 G satellite metastasizing telecom Gestapo digital prison?
In a February article called "Bernie Sanders Loves This $1 Trillion War Machine," The Daily Beast took the senator to task for this very thing.

"The socialist trumpets his antiwar record," the article said. "But he doesn't mind expensive war machines — if they're based in his home state."
Oh well, this is the cooption of Capitalism, that complex, that INDUSTRIAL COMPLEX:
big pharma
big business
big banking
big finance
big medicine
big education
big media
big AI
big real estate
big insurance
big retail
big prison
big surveillance
big chemical
big extraction
big publishing
big aerospace
big mining
big ag
big telecom
big military
big business
big hedge fund
… INDUSTRIAL COMPLEX. All those hyphens, for the Military Industrial Complex!!!
Thanks to DARPA, Air Force F-35s Could Soon Have Drone Copilots And do we think that bio-toxins, bacteria, viruses, poisons, any manner of scientific inventions, might be delivered via drone? Not on our watch, right? Bullshit!
Biological Experiments are war crimes
Article 8 of The Rome Statute of The International Criminal Court (ICC) defines biological experiments as war crimes. The US, however, is not a state party to the international treaty, and cannot be held accountable for its war crimes.
Here, "Why Fort Detrick Lab Should Be Investigated for COVID-19 Origins Tracing."
Read it. Of course, many obvious things are lacking in the piece. First, the USA has a deep history of toxins, bioweapons, ecocide poisons, assassination programs, viral dump, experiment (sic) after experiment (sic) messing with the United States' and the other Five Eyes' enemies.
Of course this is a bioweaponized virus. Messed with on the DNA level. Messed with through the auspices of the best and the brightest medical teams, scientists, virologists, et al. So, we murdered Salvador Allende, train death squads, cook the books on yellow cake uranium and WMD's, all of the false flags, all of the economic sanctions, all the Madeleine Albrights and J. Edgar Hoovers and the Dulles Brothers, et al.
The US Air Force has been specifically collecting Russian RNA and synovial tissue samples, raising fears in Moscow of a covert US ethnic bio-weapons program.
Source: fbo.gov
The WHO experts assessed the lab-leak hypothesis when they visited Wuhan and found no evidence, and the speculation on its possibility in a Wuhan lab should have ended by now. In the meantime, we should put a question mark on other hypotheses, such as other labs around the world, Zeng said.

Zeng said the US is afraid of WHO's inspection in the same way it was done in China, Zeng said.

The US, the only country obstructing the establishment of a Biological Weapons Convention (BWC) verification mechanism, has systematic problems, Zeng said, adding that the US is afraid that the investigation into its labs would lead to more of its dirt being dug out.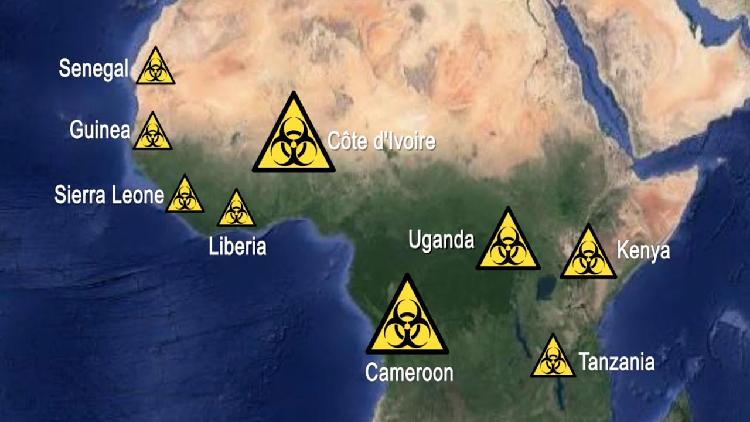 This is how the USA works, and how the scientific community works, and there is just the no-brainer of, well, how quick was the mRNA vaccination (sic) developed? The timing of the planned pandemic. The patient zero in Wuhan is bullshit. The wet market theories are bullshit. BSL-4 moon suits and outside air sources, but masking, bullshit.
So much has happened over the past year that it may be hard to remember what life was like pre-COVID. But let's flash back to December 2019, when the idea of social distancing, compulsory masking and lockdowns would have been met with disbelief and outrage by most Americans.

At that time, most were blissfully unaware of the pandemic that would change the world in the next few months. It wasn't until December 31, 2019, that the COVID-19 outbreak was first reported from Wuhan, China,1 and at this point it was only referred to as cases of viral pneumonia, not a novel coronavirus.2 I say "most" because it seems some people may have been aware of something lurking much earlier than it appeared.

In confidential documents3 revealed by the U.K.'s Daily Expose, Moderna, together with the National Institute of Allergy and Infectious Diseases (NIAID), sent mRNA coronavirus vaccine candidates to the University of North Carolina at Chapel Hill December 12, 2019 — raising significant red flags. As The Daily Expose reported:4

"What did Moderna [and NIAID] know that we didn't? In 2019 there was not any singular coronavirus posing a threat to humanity which would warrant a vaccine, and evidence suggests there hasn't been a singular coronavirus posing a threat to humanity throughout 2020 and 2021 either."

COVID-19 Vaccine Candidate Was Released Prior to Pandemic

The confidential disclosure agreement relays a material transfer agreement between the providers — Moderna, NIAID and the National Institutes of Health (NIH) — and the University of North Carolina at Chapel Hill. The providers agreed to transfer "mRNA coronavirus vaccine candidates developed and jointly-owned by NIAID and Moderna" to the university's investigator.5

"The material transfer agreement was signed the December 12th 2019 by Ralph Baric, PhD, at the University of North Carolina at Chapel Hill, and then signed by Jacqueline Quay, Director of Licensing and Innovation Support at the University of North Carolina on December 16th 2019," Daily Expose noted.

At this point, some backstory information is more than relevant. We know with great certainty that researchers at China's Wuhan Institute of Virology (WIV) had access to and were doing gain-of-function research on coronaviruses, and manipulating them to become more infectious and to more easily infect humans. We also know that they collaborated with scientists in the U.S. and received funding from the National Institutes of Health for such research.

Baric, who signed the material transfer agreement to investigate the mRNA coronavirus vaccine candidate before there was a known COVID-19 pandemic, pioneered techniques for genetically manipulating coronaviruses, according to Peter Gøtzsche with the Institute for Scientific Freedom,6and these became a major focus for WIV.

Baric worked closely with Shi Zhengli, Ph.D., the director of WIV's Center for Emerging Infectious Diseases, also known as "bat woman," on research using genetic engineering to create a "new bat SARS-like virus … that can jump directly from its bat hosts to humans." According to Gøtzsche:7

"Their work focused on enhancing the ability of bat viruses to attack humans so as to 'examine the emergence potential.' In 2015, they created a novel virus by taking the backbone of the SARS virus replacing its spike protein with one from another bat virus known as SHC014-CoV. This manufactured virus was able to infect a lab culture of cells from the human airways.

They wrote that scientific review panels might deem their research too risky to pursue but argued that it had the potential to prepare for and mitigate future outbreaks. However, the value of gain-of-function studies in preventing the COVID-19 pandemic was negative, as this research highly likely created the pandemic."

Moderna Gets Emergency Use Approval for COVID Vaccines

The rest of the story, as the saying goes, is history. December 12, 2019, Amy Petrick, Ph.D., NIAID's technology transfer specialist, signed the agreement, along with Dr. Barney Graham, an investigator for NIAID, whose signature is undated.8 May 12, 2020, just months later, Moderna was granted a fast-track designation for its mRNA-1273 vaccine by the U.S. Food and Drug Administration. According to Moderna's news release:9

"mRNA-1273 is an mRNA vaccine against SARS-CoV-2 encoding for a prefusion stabilized form of the Spike (S) protein, which was selected by Moderna in collaboration with investigators from Vaccine Research Center (VRC) at the National Institute of Allergy and Infectious Diseases (NIAID), a part of the NIH."

December 18, 2020 — about one year after the material transfer agreement was signed — the FDA issued emergency use authorization for Moderna's COVID-19 vaccine for use in individuals 18 years of age and older.10 June 10, 2021, Moderna also filed for emergency use authorization for its COVID-19 shot to be used in U.S. adolescents aged 12 to 17 years.11 Yet, we still have no answers to some glaring questions: (read more, here, Source).
A few more headlines from the story reflected above —
Chemical and Biological Weapons: The US Government Waged a War Against its Own Citizens
COVID-19: All Truth Has Three Stages
COVID-19 and the CIA's Biological Warfare on Cuba
Dreams of Extermination in Puerto Rico: U.S. Biological Warfare and the Legacy of Dr. Cornelius Rhoads
Dilyana Gaytandzhieva – April 30, 2018
The Pentagon has spent at least $70 million on military experiments involving tests with deadly viruses and chemical agents at Porton Down – the…
Dilyana Gaytandzhieva – April 29, 2018
The US Army regularly produces deadly viruses, bacteria and toxins in direct violation of the UN Convention on …