The Music
"Life is for the living.

Death is for the dead.

Let life be like music.

And death a note unsaid."

― Langston Hughes, The Collected Poems
Here's a situational recipe for pure enjoyment while imbibing on beer, food and storytelling through a not-so imaginary alpine glen feast of Sean Ullman's 2020 book, Seward Soundboard:
one part Beep bop Dizzy Gillespie on I-pod
field full of arrowroot balsam in bloom
eagles above with multiple attempts at talon locks
cedar plank near Alderwood fire with sockeye fillets flaking
basket of huckleberries
cold-water stream at your feet
7.7 ABV IPA just uncapped
four people sitting around dusky fire passing around rhubarb and apple cobbler
a giant round of Gouda sliced with Bear & Son six-inch blade and antler handle
no sounds from interloping roads
clear sky, no high tension power lines
undivided attention of four friends while you start sounding out and riffing with Sean Ulman's words
final course of a little "We'll Make It Through" by Ray LaMontagne
Oh yeah, all of that with a dogeared volume of this Cirque Press gem.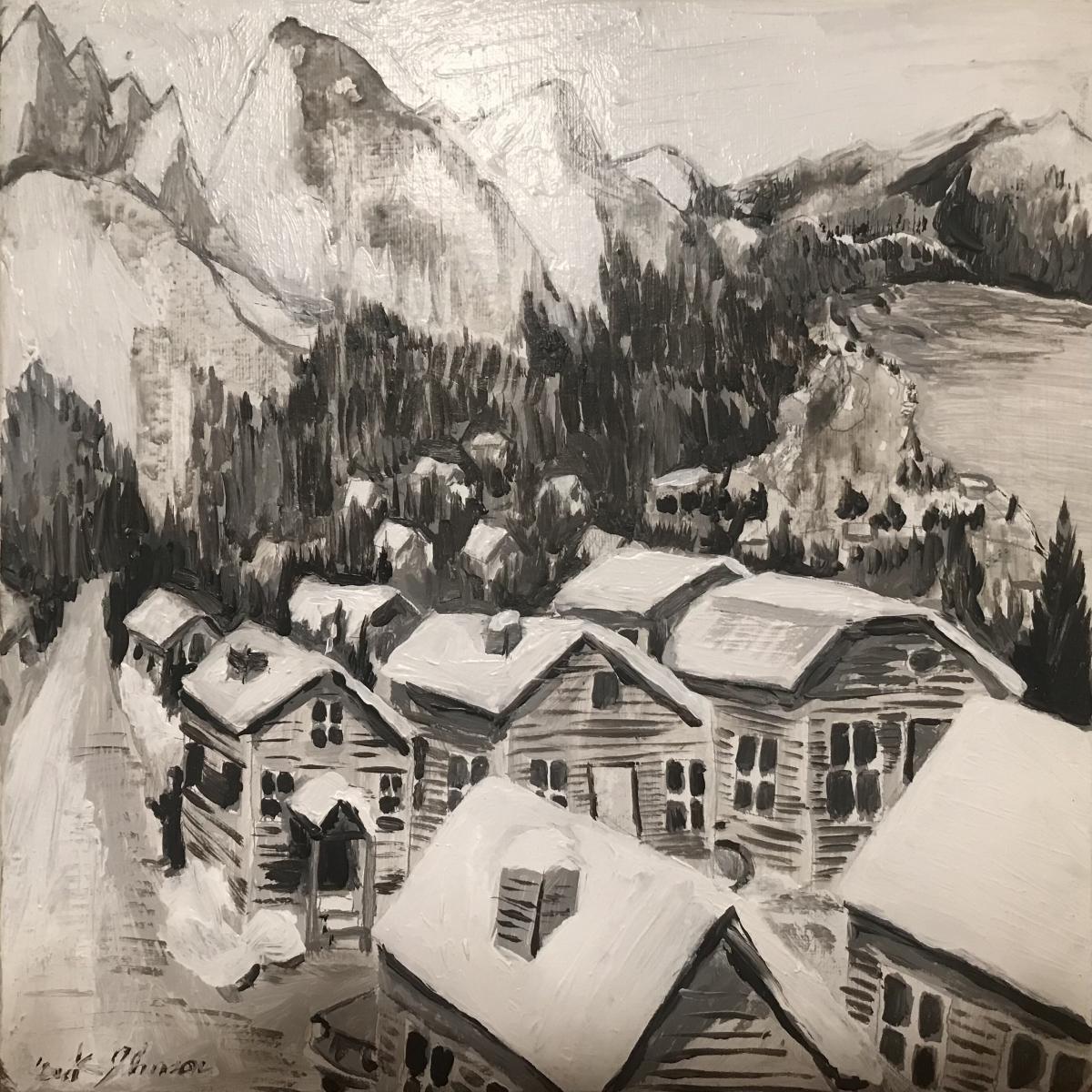 Ulman asked artists to read passages from Seward Soundboard and create works in response. This painting by Erik Johnson is featured in the book.
There are variations on this around the campfire story telling feast scenario, of course, depending on if you are, say, there in Alaska where I spent time (Hyder), or southeast, in a place like Nelson, BC, or further down the road, Bonner's Ferry, or in Nez Perce land, on the South Fork of the Clearwater in Idaho.
The gem of a book – cloned fiction, sort of Pictures at an Exhibition of Seward – drips sea-full air and glacial tremors for all to ruminate inside, thanks to the creative juices of Ulman, who acts as bellwether for understanding the ebb-flow and syncopation of this Alaska town. Qutalleq in native Alutiiq, the population of Seward hovers around 3K.
Seward was once Mile 0 for the starting point of the historic original Iditarod Trail (now it begins in Anchorage and ends in Nome).
His book is a canvas of many changing hues a la J.M.W. Turner or Austrian artist Tina Blau. The silver tone photo paper of a W. Eugene Smith. A narrative poem of beat Lawrence Ferlinghetti. Juxtaposing of Phillip Glass and Neil Young singeing the air.
Ulman's carried both tone and tenor in his remarkably simple ode to a quirky town by chiseling a narrator on a quest to dazzle us with poetic whale songs as part of a living mural. He is in touch with alleyways, bars, hikers and marathoners. The book is a lyric poem, and a day-in-the-life of a town's eccentricities, proclivities.
Even though we surge along in his synchronous cavalcade of filmic shorts, Ulman's writing harkens back to Hemingway in that this creative writing aficionado from Massachusetts (b. 1981) follows some simple rules of describing the essence of Seward – short declarative sentences. Subject-verb-complement!
He's a fan of alliteration. That style forces the reader to lift into the Alaskan clouds or envisage the great body of water that is to Seward's west. The weather is felt, heard, tasted, smelled. The pleasure of Seward is Ulman as wanderer. Voyeur of a town. He ended up in Alaska in 2007.
Like the circadian rhythms of bears or bald eagles, Ulman draws a town through the very corpuscles of its spirit: people, land, and a lot of birds. Music flows as the narrator is troubadour of reflection and admiration of the characters that make up part of the synoptical elegance of a place.
This slim book is, again, a read one undertakes with the glow of a wood-burning stove while hunkered down near Mount Hood, or, in a palapa at midnight along the Caribbean in the Yucatan as the ocean sprays a hundred acres of light from bioluminescence. I'd say, during my far-flung adventures in Vietnam as a journalist and wildlife support team member, if this book would have been published 25 years ago, I would have hauled it into the bio-reserve where I was studying. Read in bursts and spurts, sort of a grace note to my day, as I sipped tea and chugged rice wine before hitting the sack for another day deep into primary forest.
In a very literal sense, Ulman sculpts locals and the traveler/tourist into his field of vision. At times, his writing is a macro lens into humor and down-home observations. Other times, Ulman/narrator is there with a telephoto shot, capturing rare moments of feather quivering near an avalanche's heaving dervish of snow clouds.
The people of Seward must be high-fiving Sean daily, because in one sense, this is a Seward Home Companion, "where all the women are strong, all the men are good-looking, and all the children are above average" (no aspersions to Sean by alluding to Garrison Keillor's long-running show).
The Map
We have a 150-page book in three-part harmony, and each section is anchored to light, shadow, soil, rain, snow, endless darkness, infinite days that capture this part of the globe. Seasons brought to the reader through upwelling of wind, ocean, reflections ricocheting off Resurrection Bay. He comes in with a Terrance Mallick scene setter many times, for example –
                "Fireweed dyed valley floors with burgundy stars. Tips curled into delicate sickles, bent to breezes and belched cottony-winged seedpods.

                Languid breeze ribbons shipped strollers nose-baths of brine.

                Coils of woodstove smoke smote ramblers' brains, wracking rambling musings.

                Ravens clucked."
This is on page one, and he gifts us two main characters – The Lightseeker and The Returner. Both of them weave their own stories/POV into the fabric of Seward. The Lightseeker is an old man hunting spectral truths, collecting beams of light, contemplating stars and glassy bodies of water. The Returner is a youngish woman, back in Seward after years in California. Her aging parents are etched into the granite and conglomerate bedrock of Seward.
Lots of chummy dialogue. The narrator is a wispy wren, rolling through windows and doors, carving space into glades and soaring over the heights of mountains. Seeker of the people, and always returning to the fabric of a community stuck up north, this avian god I envision is the muse and talisman of Sean Ulman. A community of locals doing life's work as fishers, outfitters, service employees, retirees and even prison guards, Seward is an ecosystem which Ulman keeps it simple. The place is a veritable ramshackle of tourists around Fourth of July (30,000 swelling the streets and eateries and bars).
The Chamber of Commerce puts 300,000 the number of annual visitors.
Humanity is labeled by the narrator for what they do in civilization's vast employment realm – painter, homesteader, baker, prison guard, clerk, barista, volunteer trail groomer, and on and on.
Here, one fellow, during the two days of snow in September – "A bleary-eyed, coffee-drugged plowman laughed like a madman as he sang, 'Let it snow, let it snow, let cash flow . . .'"
Ulman's narrator is sure to catch the artist's angle of repose, as well as the writer's emancipation of thought and feelings while looking through the wispy clouds into the blinking sky and into the snowcapped peaks.
                "Beyond eastern mountains, at the end of a pink and orange cloud-speckled sunrise, a ribbed cloud shelf (a sunny-blue flue), funneled to a cubed sky compartment.

This cloud catacomb was an ephemeral factory for poems."
Whimsy and jazzy. As I stated, there is that free-jazz/outside jazz element to this wordsmith's phraseology. There is Ulman's compact writing style. There are the archetypical humans peopling the scenes as the flighty narrator hits this or that scene in snap-shot style, catching people in action. The feast of visuals is what drives each page to be turned and turned.
The reader, is there, witnessing the goings on, and many of the pages fill up with this or that town person, this or that townies' goings on, this or that petite town dramas unfolding.
The words exchanged are sometimes arranged for people jaunting about running into friends, and sometimes the townies unleash soliloquies. Other times crisp, short dialogue chatters on the page, for example, between two "sunglassed Nordic skiers" or, for example, with The Returner as she flirts with "the therapist."
Again, the protagonists are Everyman and Everywoman, who are the stalactites and stalagmites of the journey through the Seward soundboard (lowercase 's') – a slice of rough-hewed heaven with a whole lot of people jonesing for endorphins vis-à-vis mountain biking, trail hiking, running marathons, swimming and kayaking.
Threaded into the basket that is the soundboard are spirit people, those specters who take on the same avocations, defined occupations and place markers for Seward. The ghosts are watchers.
He takes minimal peeks into the real stewards of this place, the native people. Here, a whimsical passage: "A Native woman, without intended to, did not say a single word all day, including a dream (during a long nap) in which her dream double was being abnormally chatty."
Authorial Intent/Tensions
That little flowing sentence above draws me into Gabriel Garcia Marquez, the magical realism of dream time, curanderas, shamans and, of course, in the case of North America, the spirit worlds of Native people.
The persistence stage left and stage right entrances/exits of birds populating his book gives more credence for someone like me entering literary dreamtime as I seek colliding tribal forces and my own "talk walkabout" through animism many of the original people of this Turtle Island have taught me.
"Plants panted.
Birds bit bugs and berries, chirped contact chitter, shat turds."
This bit of humor folds into another interesting scene – the guard at the Seward Prison (Spring Creek Correctional Center). That fellow ditches his shift to instead hike to Godwin Glacier. Hours later, he returns with a bit of ice from the ancient flow. He hands it to the warden. Deposits his keys and ID into his superior's hands, along with the melting ice chunk.
His book ends on Labor Day, and then September 15, when "at 6:04 a.m., an 8.1 earthquake bolted the ocean floor 250 miles southwest of Seward."
The various characters in the town consider the possible tsunami after-effect. In those last eight pages, we get people of Seward and tourists living out fears, hopes, dreams, ruminations as, of course, no tidal wave appears.
Again, Ulman bookends the novel this way –
"Jovially clucking back (the first vocal sound she had made in two days), the Returner knew with thawing certainty that there would be no wave.
Flapping shiny, black-tongue wings with astounding synchronicity, the ravens rolled on toward Seward.
The Returner watched them until they shrank out of sight, then started running down the trail, back to the cabins, to pack up and head home. "
A Common Language
The people out west, well, sure, are a different breed apart. True of my time in Arizona, New Mexico, West Texas. And, Alaska, the western most illusion of dreams and hopes, boom and bust.
One cannot be pessimistic about the West. This is the native home of hope. When it fully learns that cooperation, not rugged individualism, is the quality that most characterizes and preserves it, then it will have achieved itself and outlived its origins. Then it has a chance to create a society to match its scenery. —Wallace Stegner
Hopes and dreams. Ancient Beringian, Alaskan Athabaskans, Ahtna, Deg Hit'an, Dena'ina, Gwich'in, Hän, Holikachuk, Koyukon, Lower Tanana, Tanacross, Upper Tanana, Upper Kuskokwim (Kolchan), Eyak, Tlingit, Haida, Tsimshian, Eskimo, Iñupiat (an Inuit group), Yupik, Siberian Yupik, Yup'ik, Cup'ik, Nunivak Cup'ig, Sugpiaq ~ Alutiiq, Chugach Sugpiaq, Koniag Alutiiq, Aleut (Unangan).
Ulman sows life into a town named after Secretary of State William H. Seward, who arranged the United States' purchase of Alaska from the Russian Empire in 1867. It's on the Kenai Peninsula, named after the local Dena'ina (Tanaina) word "kena," — flat, meadow, open area with few trees; base, low ridge.
He goes with the flow, hooking into the mundane and pedestrian, blowing colorful swirls of glass with his gift of word play and observation. I imagine Sean out there with camera in hand and notepad at the ready, not capturing life but rather galvanizing himself into life. Grafting what he is now teaching writing for Kenai Peninsula College and running a writer's group at the senior center.
Here's what Sean told a reporter:
—the end–
But especially for this book, it's very important for me that this book is received by Sewardites and hopefully liked, but first being like, 'Yeah, He got it.' 'Cause I'm not a local kid. I didn't grow up here in Seward. But I love Seward. And I've studied it. I've been a student of it for some years now. And it's just gotta be in that range. [S. Polix]

Note that I will be interviewing Sean for a back and forth discussion about writing, Seward, Pacific Northwest, his own roots, his demons, his skeletons in those closets, what it's like being a man in 2021, and more.




Here, what Sean wrote to me after he read this review, which will be published in Cirque Journal #22.

Hi Paul,

I read the review and man, I'm blown away by it. 

I haven't heard a lot of feedback so to hear all this from a writer I hold high- a writer with a mind and heart like you – it means a lot. A very lot.
Its rich for me to learn that u got the book and felt the style so closely. Like Id been waiting to hear of a writer feeling like the book worked n really offers an artistic experience. so , well, that wait is over. 

Yes, you got the riffs n the measures. Nailed it.

The opening is awesome! Honored to have the book in that scene of comforts. 

Honored by it all really. 
How much you wrote…
Terrance Mallick ! is my favorite. 

I like all the excerpts and quotes u featured. 

And I like what you wrote about Native people, doing that honoring – that is something I've been thinking about a lot lately, learning more about Native cultures. Something we can talk about maybe. 

I'll respond more to your fantastic review when I'm back at my desk. I'm at a cabin now on my phone. 

Had to let you know that I love it.

I love when Reviews are their own piece of stylish writing – and this one with your tumbling idea after art reference after idea… is an off the charts fun experience. So many great sentences n moves you made dancing through it.

Thank you! I can't thank you enough, I'll be back in touch soon,

Sean


Here, a poem by Ulman, with accompanying image — Spork Press!
Pig City Subway
Slop. . . scarce.
Grazing grows
underground.
Piggy-backed
pigs
scarf seatback foam.
Chairs: toilet&trough.
Tattered ad: miss piggy saddled on elfin hermit crab,
"deflated w/ inflation, hop the crustacean caboose" puke-perfumed, licked.
Locked locomotives root ↓ raunchy routes,
lunge off jagged lard-greased rails,
plunge n worm ↓ polluted wells, ram doors of
un-looted stalls: sweet n sour centipedes, moth broths, butterfly-flayed butterflies.
Tooth n hoof scraps pace foul final animal race's races to gulp plopped dung
plump ripe-plum-fresh,
swill shed blood by-products.
Next stop grisly scrapyard razed-grazed to gristle.
Rib & jaw fossil trestles, pig bone drip castles,
rote motes clogged w/ innards n gizzards, ties n rails afloat n bloated.
Inhale charred knuckle rind Blizzards® on rust boat rides, lard sails, snout floaties.
Fares traded for goes at carnivore carnival games
(uncoiling curly fried tails, telling cryptic tales of frozen rations sepulcher, king of the pig pile, candied ham pie eating contests – contestants don pork pie hats).
Whilst such scarred scourge be purged?
Were refurbished frescoes of porky pulchritude facsimiles?
Sows farrow fallow farrows, litter fish-guts-gutted gutters.
Gates slime-sealed.
Penned porks relegated to purgatory glory.
Swine spill slouch squeal stomp romp into arcade of pitted station pit.
Runts impaled on bent rails.
Trampled busted trams acid-rain rusted.
Imposter conductor conducts gluttony lessons: accelerated masticating;
how to bash tubby piggy banks so hock rock-candy contents spill↓ gnashing mouths sleekly.
Switch
tracks
switches stuck on collision
under sewage silos.
Tooth-hollowed hoof un-hallowed ground.
It's eat or be eaten, never ceding seeding poison pellets.
Rational to suspect ursine rationed to source end plague?
Pollution metropolis grappling refuge in fog-spawned fugues.
Was/is/will: futile.
_____________________________
[Sean Ulman, worder birder baller server, is writing a novel about Seward Alaska and Art. "Pig City Subway" is a piece from his comic book side project, "Forest City Tilt" featuring an elf poet protagonist. Other poems from that project have been published at Everyday Genius, Mud Luscious, Clutching at Straws and 13 Myna Birds. sean-ulman.tumblr.com]
*
[Paul Bruns is a freelance graphic and web designer located in Cambridge MA. Paul enjoys learning about all things art, illustration and design, and has a passion for creating elegant user experiences on the web. He can be found online at http://paulbruns.com. Paul lives with his girlfriend Ashlee in the heart of Harvard Square.]