A real micro-manager
"At 550 percent of daily value cumulative nutrients, broccoli [microgreens are] the king of nutrients. It has the most complete nutrient package of any vegetable on this list. It is packed with Vitamin A, B, C and K. Plus, it has a significant amount of as iron, magnesium and phosphorus."

— Jason Lee, Grow Your Microgreens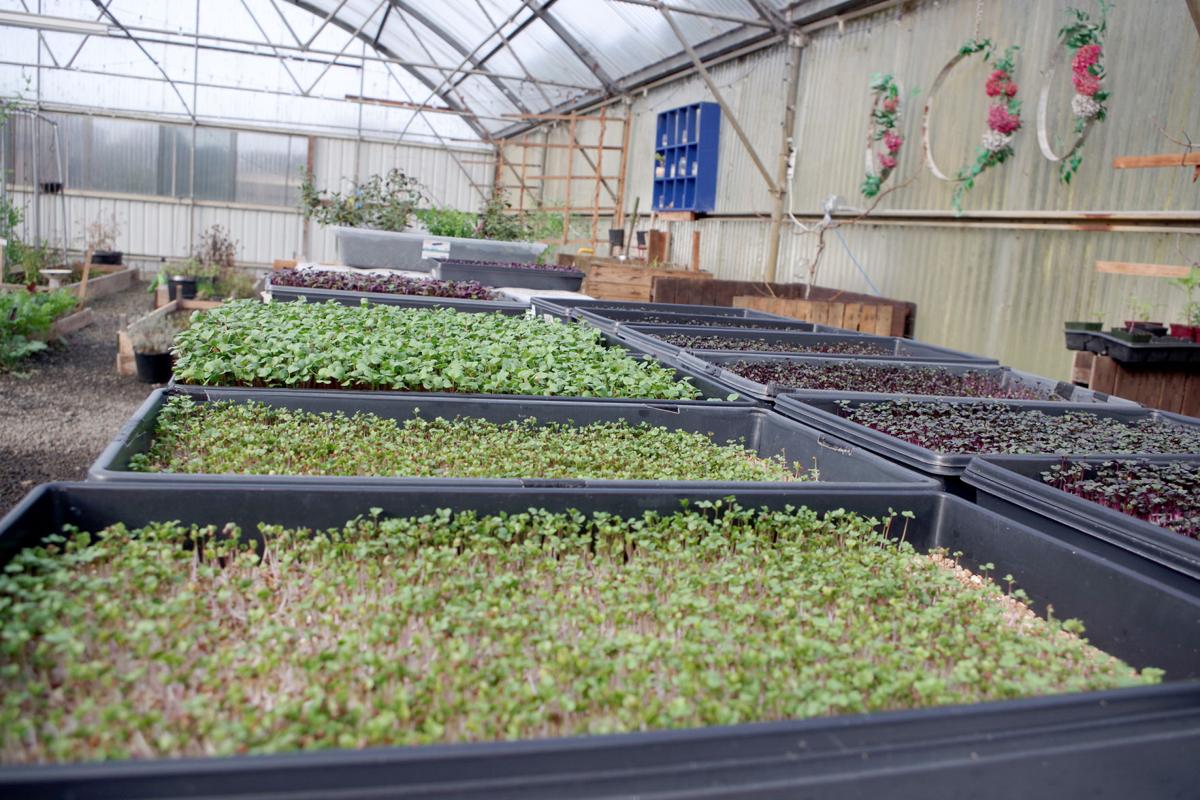 I met Helen Denton at a Newport restaurant while interviewing for a feature story. She had just brought in clear plastic containers of some of her delights — called "plant confetti" for some, microgreens for others. Also, in her cache were edible flower blossoms.
Her operation is in Waldport, called Lil Swiss Farms. She invites me over since I thrive on the stories of people on the coast whether newcomers or sixth generation deep, it doesn't matter to me.
The story of microgreens eclipses any hippie and vegan roots — if you hate your broccoli like George H W Bush stated as president, there is still the option of broccoli shoots. All that energy to push the seed up into gravity-fed air, all those resources to get the stalk to lift up leaves and flowers through all that cellulose magic actually saps the plant of nutrients. Big time.
"I've heard up to 40 times the nutritional value broccoli microgreens have over the vegetable broccoli."
She's showing me around her greenhouse operation in Waldport, as part of the seven acres where Tiny Tranquility Park is sited.
This is a one-woman show, and Helen's 62 years on planet earth belie a 180-degree turn from her more than 40 years in the time-share resort business.
Early roots, early gardens
Interestingly, Helen's background goes back to her grandparents from Bavaria, who ended up in the US after World War One. Family history is a big story for most of my column's people. Some, like Helen, decide to not get too deep into immediate family dynamics.
She did say, however, that one day her New Jersey-raised father in one fell swoop lost his wife. Helen was six months old at the time when her mother died of a cerebral aneurism. "And if it had happened today, she'd be operated on and be fine."
He was left raising Helen and sister. She counts Painesville, Ohio, and New Jersey as stopping points in her early life. She ended up in Houston, Texas, from 4th grade to her high school graduation.
Not surprisingly, she wanted to build a family, but she ended up with three children who she raised herself. "I have great kids. It's the best work I have ever done."
Her current two-plus year microgreens venture contrasts greatly with her father's work as a chemist. As a scientist with Bayer, he was part of the manufacturing team for dinitrotoluene (DNT), a mixture of toluene and nitric acid. It's what ends up in bedding, furniture and car dashboards as a flexible polyurethane foam. Its closes cousin is the more infamous TNT (dynamite).
She is quick to explain while microgreens are a new iteration of Helen Denton, she has always been around gardens and was always gardening. In fact, when she moved back to Texas (there while helping a family member battle cancer), Helen built and tended 27 raised garden beds.
"It must be a leftover from my grandfather. He had half an acre on his New Jersey property. Half of that was a garden. My sister's been the same. It must be in my blood."
Demand for the product
She counts many local and regional restaurants as part of her customer base. Green Salmon, Yachats Brewery, Restaurant Beck (a James Beard mention) and Coast & Vine are just a few that put in orders.
The Lil Swiss Farms list of microgreens is extensive, including collards, kohlrabi, pea, mustard, radish, broccoli, borage and sorrel. Also, in the mix are herbs like rosemary, mint, sage and basil. Then there are the edible flowers: nasturtium, marigold, calendula, snapdragon, chive blossom.
"Lil Swiss Farms' microgreens not only make food more appealing to the eye, but the flavor can take a dish from good to great," according to Chef Sam Bretz with Restaurant Beck at the Whale Cove Inn.
The greenhouse at Tiny Tranquility Park is huge and full of light. Helen said she has put in sweat equity to clear it out of all the junk as things piled up during its disuse. The space comes from Josh Palmer, the New York native who owns the tiny home/trailer park.
Part of her responsibilities are maintaining the garden dedicated to the Tiny Tranquility residents who have access to homegrown vegetables from a garden which takes up part of the greenhouse. The residents harvest it, in a pay-as-you-will honor system.
She's aware of microgreen growers who set up grow lights, irrigation systems and hundreds of trays to produce 800 pounds of microgreens a week.
"There's something really fulfilling, healthy and satisfying to grow in this natural light. To put your hands in the soil." She says she'd have it no other way working this small business vis-à-vis the value of fresh air, sunlight and ground and gravel under her feet.
The Tiny Tranquility Park garden is her reminder that people who live intentionally have a desire to eat healthy food from a pesticide-and-herbicide-free garden.
While surfing the internet, I came across this accolade for Helen and her microgreens, from a resident of Tiny Tranquility Park:
"Pinch me, as it is a tiny houser's dream come true. To be in a community with its own greenhouse garden and, with Helen's expertise in helping us raise our own vegetable gardens. Plus, we have a place to store our own plants in the wintertime. The best perk is having the closest opportunity to purchase the freshest microgreens just a few steps from our tiny houses. Wow, how cool and healthy is that. Thus, the title of my blog, Tiny B is in 'Microgreen Heaven.'" — Brenda Schwerin, Just B Tiny blog.
Growing the Micro-green biz
"With just the right partner, we could easily quadruple this business," Helen says while showing me those exotic-looking microgreens like red garnet mustard and red-veined sorrel.
She may be hoping for a 50-50 partner in 2020 — "I worked seven days a week straight for six months, and I haven't had a vacation in two years." But she knows daily watering, prepping and washing down containers, packaging, marketing and expanding markets will require a special sort of co-owner.
She laughs about how in all her years in resort timeshare marketing, she got used to four weeks off a year for vacation fun.
Now's she's 62 and working long and hard to maintain the business — one where you can't just lock the doors and take off for a week at a time. Someone has to water the crops. With an average growth cycle of seven to 10 days, they have to be clipped, watered and delivered.
The road here has been long traveled, a far cry from her nascent years.
Think "and ah-one, and ah-two . . . "
She ended up working for a timeshare development company tied to the North Waterwood National Country Club. She was in college majoring in languages and commercial art when a careless "drag racing" accident pushed her out of school and into the corporate world to pay off the resulting bills.
She moved up from secretary and receptionist to director of special projects for the timeshare entity run by the grandson of that famous champagne music guy, Lawrence Welk during her more than 45 years working in resort marketing.
Helen emphasizes that she knows many timeshare schemes have "earned a bad name with their marketing practices in the early days."
Her role was working on research projects to delve into the corporation's internal needs such as new computer systems or call center technologies.
At the end of the day — while she relishes her new simpler life — this Microgreens Lady tells me she feels she helped a lot of families have rewarding family vacations.
That world taught her laudable lessons — independence, self-agency, single parenting tools, love of her family.
This family includes son Justin, 35, who is in an RV traveling across the country with his girlfriend. Kathryn, 34, is working for the Westin Hotels & Resorts timeshare office. Her youngest, Kalynn, 33, is a photographer for the Mayo Clinic in Scottsdale.
She is jazzed about a two-year-old grandchild living in Arizona.
As she shows me incredibly vibrant microgreens, we talk about how she fought hard in the "good old boys club" while in the timeshare business, and how she felt like a token female.
"I'm a pretty opinionated, strong-willed person who wasn't a stay-at-home kind of woman." She points out she wanted to be married and have children, but that she also wanted independence.
He life now is tied to these shoots, microgreens that on average take nine days to grow in the summer and up to 16 days to get big enough for harvesting in the winter.
"These guys are pretty particular and need every day watering and tending."
Marketing Push 2020
I meet Helen at the greenhouse in January as she preps and packages her microgreens for a run to Yachats, to one of her regular customers, Green Salmon Coffee Company.
I take photos of flowers some chefs incorporate as garnish in their recipes — sugar peas, fuchsia, snapdragons, nasturtium. She quickly updates me on her 2019 gains — her accountant said she did much better than even Helen thought. It was an 85-percent increase in her gross sales from the year before.
Her goal for 2020 is gross at least 20 percent more in sales. She's also redesigning her brochure and is ready to go north to pitch her product line to restaurants in Lincoln City.
Her one-person show is all about becoming more efficient and hiring reliable part-time help to carry out jobs like basic washing and sterilizing the trays.
She repeats to me several times, "Compared to the women you have written about, I am pretty bland."
Her story is one where more than 45 years in the corporate world — "where everybody wants more and more out of people" — has morphed into "allowing life to slow down without all these self-imposed pressures."
"I love my life. It's taken me one and a half years to say it's okay if I leave at 1 or 2. The world's not going to fall apart."
Her micro-greens are delivered within 36 hours of harvesting. Many last easily seven days under refrigeration. Some of her clients are twice-a-week users, others once-a-week or bi-monthly.
Her greenhouse has a community lounging and a yoga practice area onsite. Inside during winter, the place is warm. In the summer, all the windows are opened and fans cranked up.
Her greens and flowers are digging it, so to speak.
She reminds me that both the basil and chard micro-greens have been a real bear for her to grow. Luckily, she has a good friend and fellow micro-greens and vegetable grower, Becky Sue Graves in Siletz, covering those two products.
Her business has doubled from year one. For now, she is looking forward to her son and his girlfriend coming to Waldport for a few weeks to help out during the peak time, summer.
From the end of May through to the end of December (her peak months), the reader shouldn't be surprised to see this spry woman delivering compact containers with her dozens of micro-green products to one of your favorite eateries.
In her own words on the quick
She's a busy person, getting orders for her current list of buyers and planning for new markets for these tasty and nutritious plants. She answered these questions with aplomb.
PH: In a sentence or two define community as you have found it here in Waldport?
HD: I have found a generosity of spirit, thought, acceptance and openness in the Waldport Community; both from people I have gotten to know well and those who are merely acquaintances.
PH: Toughest things you face as a business woman — solo — with your microgreens business.
HD: I don't necessarily feel any gender-related challenges in this business; however, I do wish I could schedule a vacation so I would say my biggest challenge is that it is a solo operation that requires daily attention.
PH: What philosophy have you garnered over the years — personal philosophy?
HD: Do your best to take care of your corner of the world as much as you are able. If you can do more; do more.
PH: What advice would you give a 17-year-old facing dropping out of college?
HD: I wouldn't.
PH: When you think of a better world, here in our county or anywhere, what does that look like?
HD: The elimination of greed and jealousy. Imagine how awesome the world would be if we didn't have those two things.
PH: Define success for me in your words.
HD: Being genuinely happy
PH: Define justice for me in your own words.
HD: The illusion that something you didn't want is an ok replacement for something you did want
PH: If you weren't in this line of work, now, here and now, what would you see yourself doing and why?
HD: No clue (other than falling back on old employment patterns) so glad I don't have to think about that.
PH: What do you do for fun around here?
HD: Crab, hike, mushroom hunt, kayak, read.
First appeared in Oregon Coast Today, my paid (minimum) writing gig.
Support writers, man, in this lock-down and death of social groups. I had dozens of book readings planned for local and regional libraries and bookstores and a literary conference. Interviews in newspapers and on the radio. All cancelled. Here is my book, folks. Short story collection that will knock your socks off. I will be writing a piece on my bat cave studies in Vietnam, a non-fiction piece, to appear here on the blog and elsewhere. Order the book, and/or hit that GoFund Me campaign.